So, just what do you wear to a temple or monastery in Shangri La? It depends if it's a Buddhist temple, a monastery, or a chicken temple.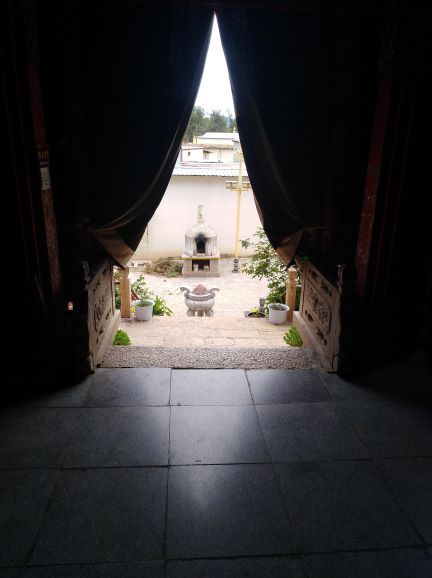 When I visited all three temple varieties in Shangri La, I didn't get a ticket from the fashion police for having bare shoulders. Bare shoulders are taboo at all Buddhist temples throughout Asia. I didn't break any sacred fashion rules for women over fifty, either, like wearing shorts that showed my knees, a jogging suit with sequins or anything mesh. But I did learn that Shangri La is a fashion capital of sorts, the Paris of Yunnan, minus the fashion shows. Visitors rent formal attire to wear to the Songzanlin Monastery, yes a monastery. Being the largest Tibetan Buddhist Monastery in Yunnan, it's the place to go to strike a pose.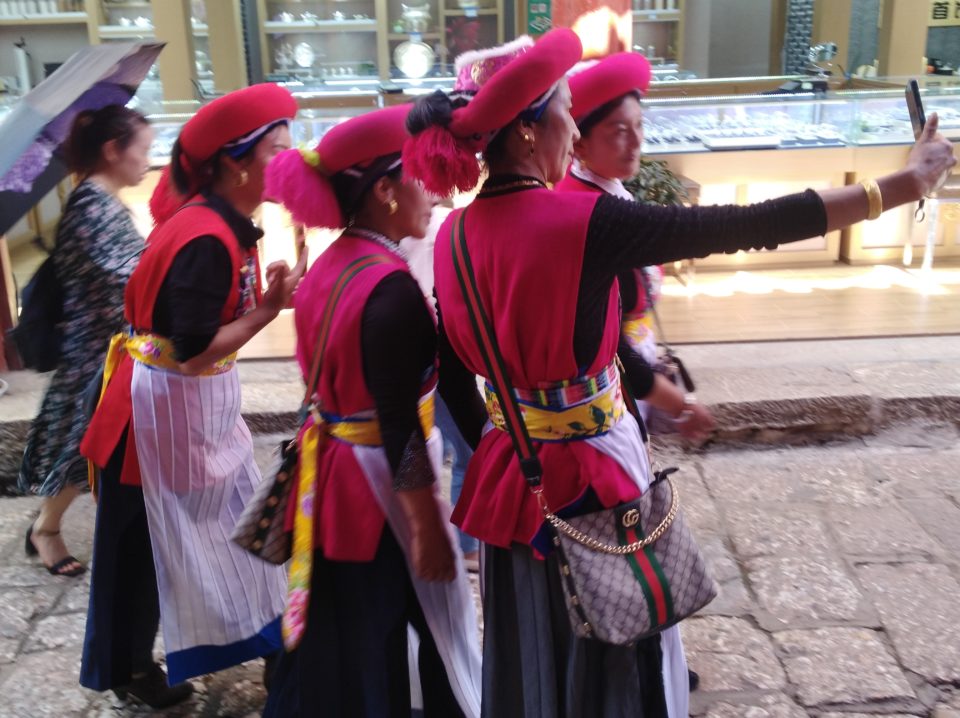 Numerous businesses in Shangri La allow you to rent costumes, like this young lady, who is yelling at her boyfriend, whom I was chatting with outside the door. Not only is she renting a head piece, silk skirt and embroidered jacket, she is renting a face. Make-up is professionally done and hair is also coiffed for this event.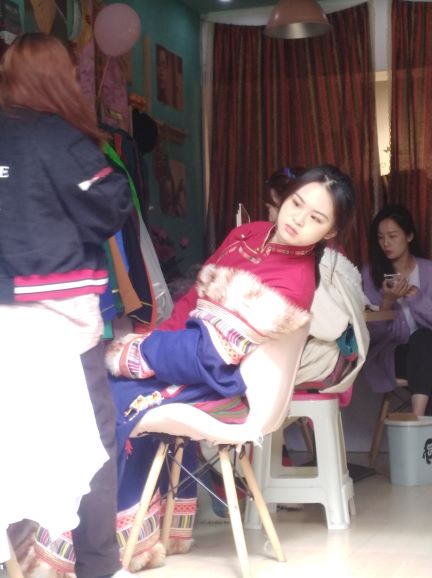 "How much does this cost?" I asked her boyfriend.
I think he wished he didn't understand English. "Four hundred RMB," he winced.
That was more than my bullet train ticket from Kunming to LiJiang. Sixty two bucks.
"Guys pay that much, too?"
Another reluctant nod yes.
And guys don't even get to wear eye glitter.
So, 800 RMB a couple.That's some racket. Heck, it's an entire tennis league. And the price tag doesn't even include the photographer.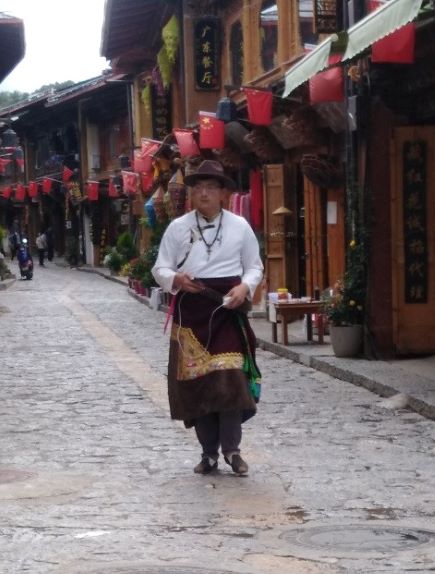 So, just what makes the Songzanlin Temple so special? The meandering structure consists of hundreds of building block cubes wear monks sleep.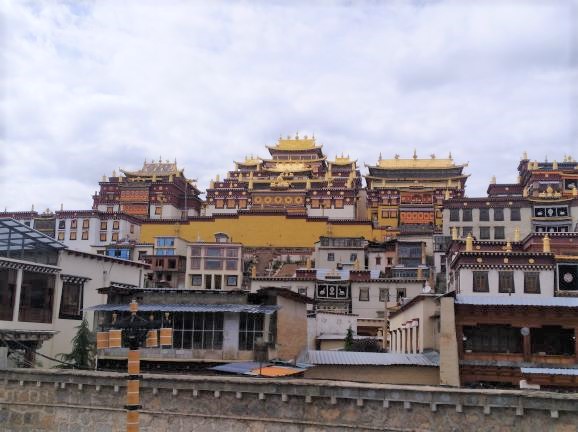 Well, all except for this guy.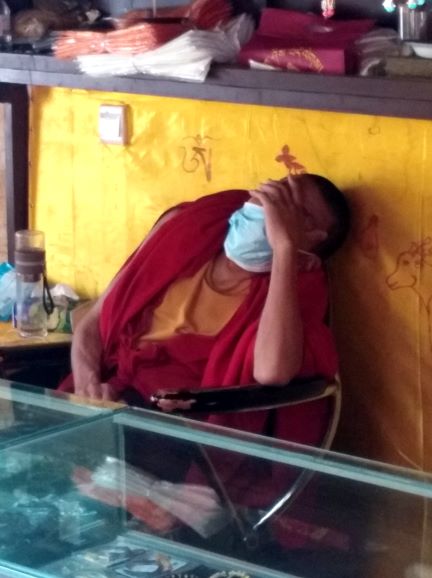 Inside the monastery, the sacred halls are bursting with Buddhas of all sizes accepting offerings from money to bottled water.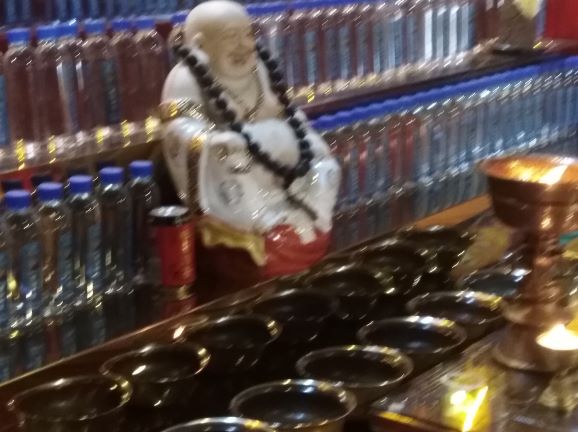 The view, unlike a 400 RMB glam shot, isn't worthy of a picture.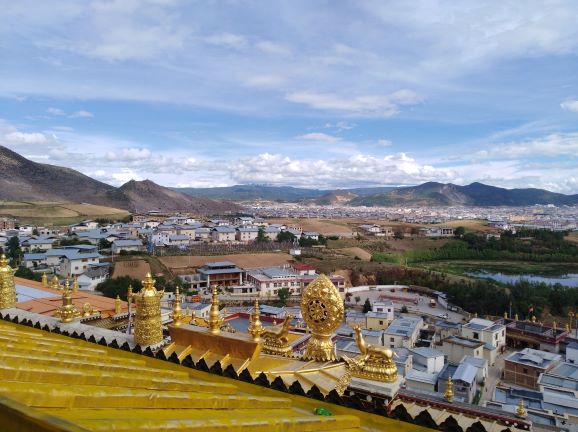 There is another thing that guests should wear at temples, even the Guishan Temple on top of Great Turtle Hill.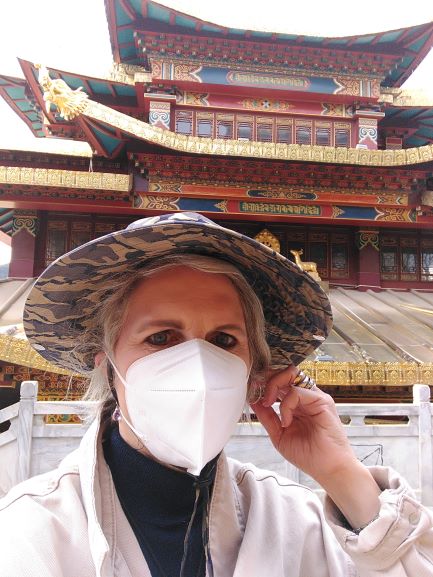 A face mask.
Not because of Covid, but because the billowing clouds of incense are so intense, you can barely breathe. Between the thin oxygen and the scented air, I wondered if I was visiting the shrine of Renuzit.
This modern temple stands on the site of the original, which was constructed in 1667. Visitors can burn incense in these stupa shaped furnaces. The wisps of incense blended right into the low hanging clouds.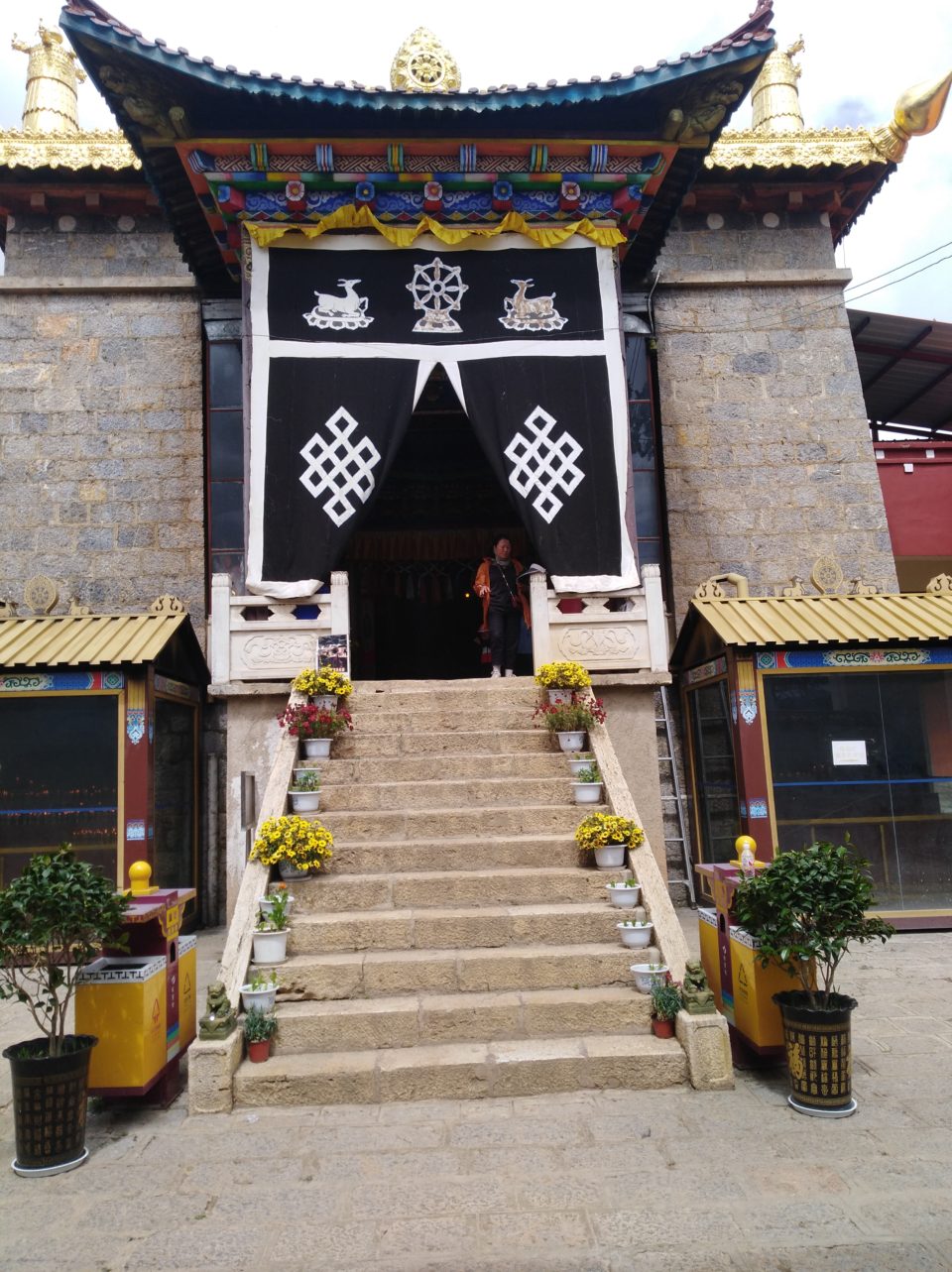 Luckily, Shangri La's Temple of One Hundred Chickens didn't have a dress code.
I was not required to wear a white suite and black string tie like the Colonel. Actually, the Hundred Chicken Temple (百鸡) got its name because on the first and fifteenth of each lunar month, Buddhists make a pilgrimage to the grounds and release a chicken, hoping a blessing will be granted. It's the same premise as breaking a wishbone at Thanksgiving, but with less fighting at the children's table.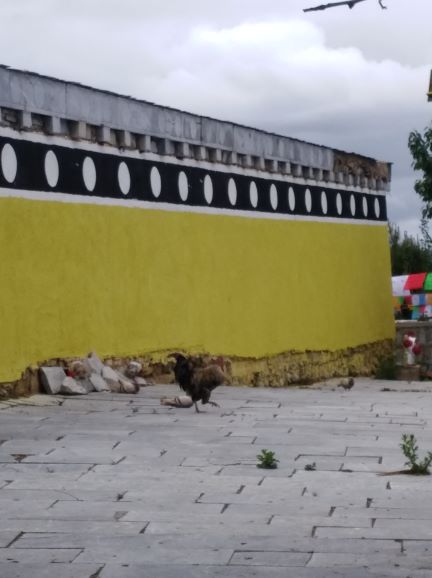 I did say a few prayers at the One Hundred Chicken Temple, but not to a chicken. The prayers were in memory to my favorite faces that will no longer be smiling in selfies.
So what did I wear besides a face mask? I wasn't exactly a fashionista with my fanny pack and yoga pants. I didn't spend 400 RMB to wear ethnic attire, even though is still worn by the older women throughout Yunnan and Northern Vietnam, all hand stitched. Please note: none of these fashionistas are showing their knees.