What do you do when life doesn't turn out the way you planned?
Cry, laugh and drink coffee with a friend.
That's what I did when  my husband left me  in the middle of China days before my wedding anniversary.  I decided to drown my sorrows in a cup of Copi Luwak, better known as butt bean coffee .

The coffee is made with beans that passed through the intestinal track of a civet cat. (You might have heard about this coffee in the movie, The Bucket List).  I was at that coffee shop when I realized my marriage was over, I was in my fifties and starting over, and that life doesn't always end up like the movies.  I also learned a valuable lesson: just like those bitter beans,  can grind up life's crappy experiences and use them for good.
Four years and a whirlwind of adventures later, I am now a tea drinker, single and starting over again.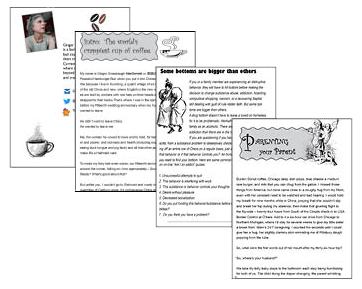 When Life Gives You Butt Beans is great for divorce recovery groups, care-givers, stuck-in-the-mudders, yoga-class drop-outs, those experiencing loss of a loved one, a job, mid-lifers who are starting over again, women's outreach groups, those with faith fatigue or anyone whose life isn't the fairy tale they wanted. Sixty inspiring pages.
Download a FreeSampleButtBeanCoffee or order  Butt Beans  at Amazon (paperback or for your Kindle). Proceeds go to paying off my divorce:))