After years of living in China where neither traffic rules or copyright laws are followed, I am still getting requests for materials for urban youth and outreach programs. So, I am making TastyFaith curriculum free.
Here's how:
.

Just email me at

Ginger@Tastyfaith.com

Select the resource of your choice. The digital copy of the recourses will be sent to you directly.
Now go change the world already!
Another Boy From the Hood. FREE!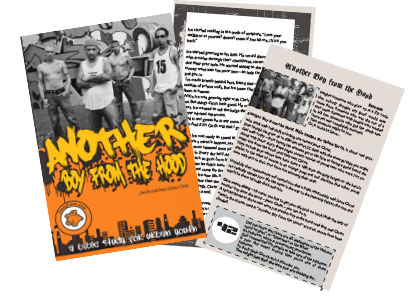 His mom was a teen. He was poor and an unpopular minority. Christ's life was a lot like teens you deal with today. Get this life-changing resource, packed with stories from "real boys" for free!
Life After Birth for Teen Moms. Free!
The only thing more difficult than being a teen mom is being a teen mom without the strength of faith.
Blend Literacy Building Skills with Life-Changing Messages. Shortie Pages FREE!
Shortie Pages Life is a Trip.
Shortie Pages Inner City Israelites
Shortie Pages Leap of Faith
Shortie Pages Bad Dogs and Wild Hogs
Shortie Pages Tuff Like Me
SLAM! Urban Teen Youth Ministry. FREE!
SLAM! 1
SLAM! 2
SLAM! 3
SLAM! 4
SLAM! 5