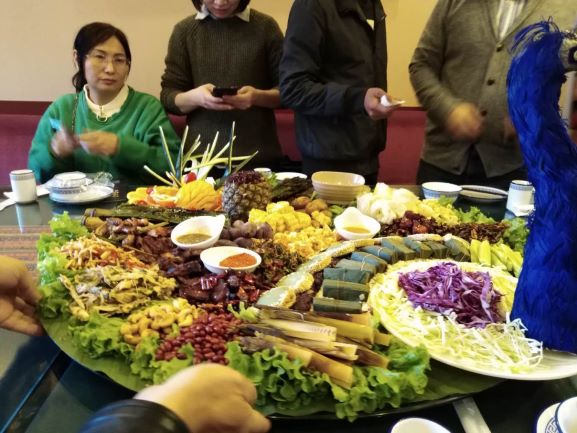 One of the perks of being a DaBiZi (big nosed American) in China is that you get to judge English Speaking Contests. But today? I didn't even have to judge. I just had to hand out awards.
And one more thing: I had to pose for pictures.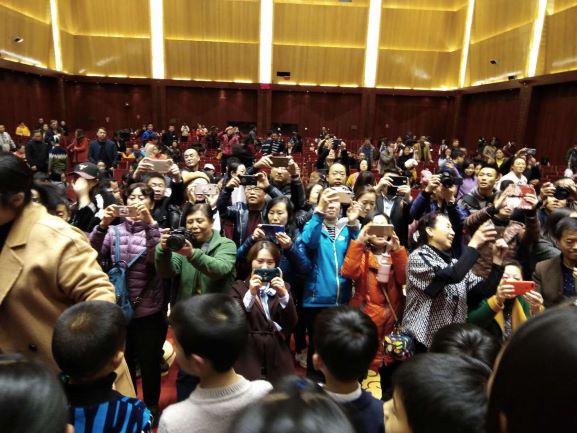 Yes, English speaking competitions are a big deal. This contest was held in a government building on Lake Dianchi. Afterwards, the judges were treated to dinner to a Dai restaurant.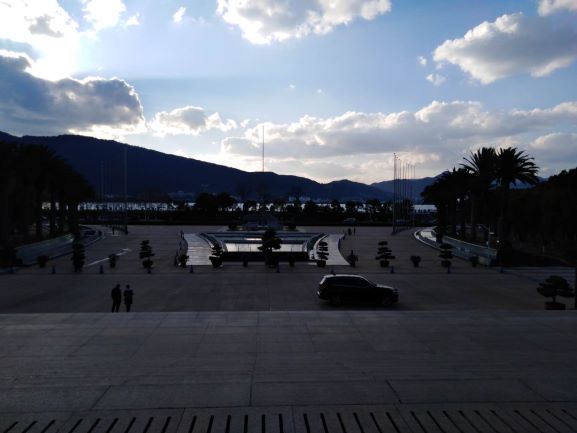 Bordering with Thailand, the Chinese Dai are the same ethnic group as the Thai. But the cuisine wasn't satay and Pad See Ew. It was Peacock.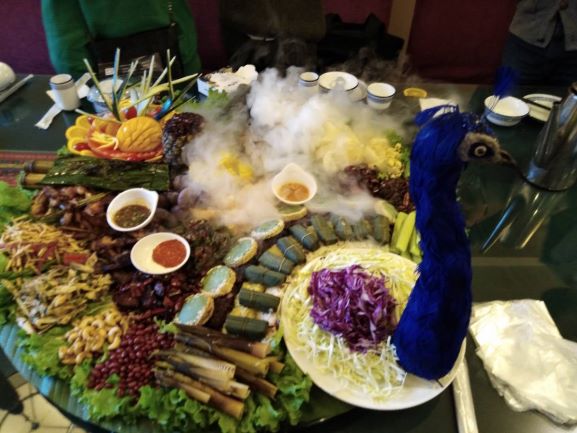 Not a real peacock. Jut imagine Edible Arrangements on Steroids. Items included purple sticky rice, fried ox skin, meal worms, roasted cashews, peanuts, corn on the cob, purple yams, fish, minced pork wrapped in banana leaves, green coconut pancakes, bean curd steamed inside bamboo stalks, roasted knuckles, bamboo tips and a few things that even grossed me out, mostly being root dishes with the texture of woody old asparagus.
The final touch on the peacock was dry ice. Martha Stewart would've been impressed. She also would've like how the peacock was served in our own private dining room, which is typical at Yunnan restaurants.

If you're wondering what fried meal worms taste like? Not chicken. Like most bugs, worms are like the burnt crispins you find in a grease trap. They taste like other bugs–like roasted pumpkin seeds. The purple sticky rice, green coconut pancakes and coconut soup appetizer? They are worth their weight in sit-ups.
We didn't eat the whole bird. We didn't get a doggy bag for the leftover peacock, either.
Darn.
I can only imagine what judges will be eating at the nationals.