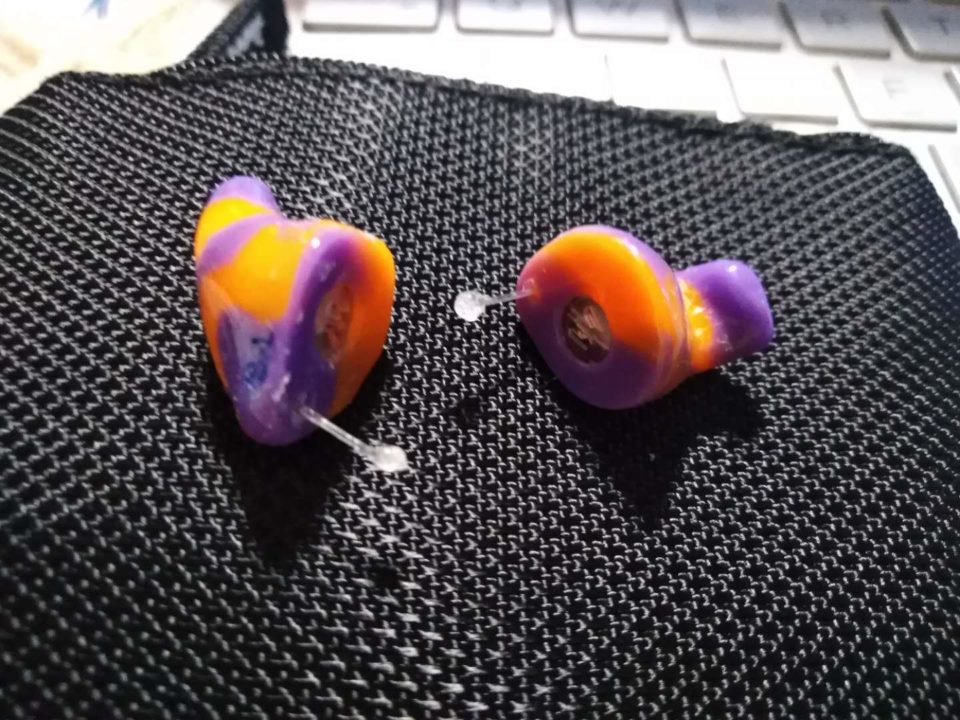 "Did you know it usually takes seven years of nagging by loved ones before someone agrees to get a hearing aid?" The account executive waited for a response. "Seven years."
And only one second to break it if you step on it, I thought to myself.
That's just one of the facts I learned about hearing loss in my last jaunts of copywriting. I was freelancing for a cokehead of a client and was more concerned my paycheck would end up in her nose than any tidbits of ear wisdom I could glean.
But according to research, I had four more years before my mother would agree to a hearing test.
And the last three had been quite entertaining.
"Do you need new tennis balls for your walker?" I asked.
"A Tennessee Walrus Fucker?" she responded.
I asked one more time in old folks' slow-mo.
"Tennis balls for your walker."
"That's a relief," she laughed. "I didn't know what a Tennessee Walrus fucker was."
I learned a few things other than Tennessee Walrus Fuckers while working on hearing aids. First, someone who is hard of hearing can no longer hear bacon sizzle or the hum of a refrigerator. They also can't tell the difference between f, s, th, ph, and ch. Or first sounds like thirst, which sounds like wish, and sit sounds like fit," and what I soon found out, not due to the client, but to my mother, that graduate could sound like a three syllable word that begins with m, that usually only hear on late night cable shows.
I have no idea how my mother and brother-in-law, who left his hearing in the jungles of Vietnam, ended up on this topic. But soon, over the hum of Fox News, a conversation was stirring that not even Roger Ailes would touch.
My brother in-law put down his Vernors and released a reptilian belch. "Mom, I told you. I graduated before I went to war."
 "You what?" She exclaimed, envisioning an illicit act.
"There must've been two hundred of us. We were wearing caps and gowns. I got pictures. Do you want to see?"
Now, keep in mind back in those days, my mother's hearing aids were second-hand. They were scavenged from a funeral home. A different brother-in-law was a mortician at the time, and since hearing aids would just be thrown away, he would give them to my Mom. Some were as dead as their former wearers, whistling or semi-working.
That was before we spent five thousand dollars on a pair that would die in the shower.
But now, both my mom and her Tennessee Walrus conversations are gone.
Now it's time for me to see Mr. Miracle Ear.
My problem is not hearing loss but hearing found. An over exaggeration of sounds known as tinnitus-hyperacusis.
It started when I realized I could actually feel sound. The morning headlines from my Twitter feed, voices from ZOOMING students on my computer, the boo-hissing of motorcycles outside my sister's loft all bursting in my ears like soap bubbles.
Clinking of forks or the splashing of water became the equivalent of fingers down a chalkboard. crinkling of opening a bag of locally made tortilla chips wouldn't be worth a bowl of fresh guacamole. And the worse sound, equivalent to "We are experiencing longer than usual waits at this time" message from call center in the Philippines, was the clinking of ice from the refrigerator.
It was warm soda from then on.
The pain was unbearable and isolating. It was just me in my luggage-handler-on-the-tarmac earmuffs. So, I broke down, six years and eleven months earlier than expected, and visited the Miracle Ear guy at the age of fifty-nine.
He didn't pull out an Ove Glove then rip into a bag of frozen peas, challenging me to pick them up, a common demonstration at old folks' homes. "This will give you an idea of what it is like to change batteries with rusting knuckles." Actually, he wasn't a Miracle ear guy but a female ear throat and nose specialist.
Her office was covered with inspirational posters. Pictures of her kids on her computer and a stack of rice cakes. She looked like a former Miss Congeniality from a queen contest, who was now a poster child for Slim Fast.
"How can I help you?"
I shared with her my self-diagnosis made possible from a wealth of YouTube videos and years caregiving for my mom.
"I think I have hyperacusis tinnitus. It's like old time radio static in my ear that won't away."
"Hmmm," she arched an eyebrow. "The static is a sign that your ears are working overtime."
I pondered her quick diagnosis. My ears were like toddlers who act up when overly tired. "So, my ears need a nap?"
"What they need are filters." She pulled a box out of her desk. It was filled with what looked like wads of chewed Hubba Bubba.
"These will take the edge off sound. You will still hear everything, but hopefully sounds won't be as annoying."
I picked up one and held it between my fingers. It wasn't that barbie crotch plastic like my mom's corpse models. No batteries. No little tubes. Just a small metal filter in the middle.
She poured the same goop used for dental impressions in my ear hole, a sensation like Smuckers jelly slowly dripping into my brain. Next, she handed me a catalog, most likely designed by an art director named Franz who sported cool eye frames and wore only black.
"Pick a color."
I fanned through the pages, the selection rivaling that of a mani-pedi place. Pinks. Florescent greens, DayGlo® Coral Magenta. Everything but the rhinestones.
"What would be easiest to find on the floor?" I asked.
"Purple or orange. We can swirl them if you like."
The price was about the same as a pair of Nikes, but earplugs wouldn't be a status symbol. They were a sign that the game was over.
For six weeks, I waited anxiously for my ear plugs to arrive.
The packaging was worthy of its own unboxing video on YouTube. It was about the size of Jarrod's gift box, but inside wasn't a necklace-earrings gift set, but a miniature pamphlet that required an eye loupe to read.
Again, I raised an eyebrow.
"Don't these guys know that the folks who confuse Tennessee Walrus Fuckers with tennis balls for your walkers are the same folks who have problems with their eyes?"
She plucked one of the plugs from the box, grabbing it by what appeared to be an antenna from donated a beetle. It was a miniature curb feeler for my ear, allowing me to pull it out with ease. On the tip each feeler, was a dab of color.
The audiologist squinted, "You see, this one is marked with red. The other is dabbed with blue. Red for right ear. Light blue for left."
I studied the plugs, telling myself the one with more purple goes in right and less purple left. I tried shoving them in, feeling like I was trying to squeeze into a pair of too-tight shoes from a Payless sale rack.
"Do ears blister?" I asked. "These are bit snug."
She handed me a miniature bottle. "Nothing that a little bit of ear lube can't help."
It was another new sensation. Cool and slippery but with a seal better than Poly-Grip.
Suddenly, noise is fifteen percent less irritating. The stabbing edge has been removed, like splinters sanded off an old barn door. Hopefully, motorcycles will no longer break my internal sound barrier. The clanking of plates won't cause me to scream. Or my sister's washing of dishes prior to loading them in the dishwasher won't lead me to confess that I ate her last crumb-topped donut.
I bite my tongue as I observe her inheritances from my mom. She didn't get faulty ears but mom's gut, her belly hanging over her pants like a backwards plumber butt.
I clear my throat, hoping she catches the hint that he granny panties are showing.
She looks at me, her knitted eyebrows code for, "You can't hear and your arm fat flutters in the wind."
I touch my ear feelers, filtering what I say as I have been squatting at her house for weeks as Covid refugee, being displaced from China, living out of carry-on and grace since January. I'll just play the I can't hear you card.
"What did you say? These ear buds work better than I thought."
As she babbles about family nuts and whatnot, my ears barely feel the sound but they do feel the pain. Pain of not having mom, knowing we are the next in line, of having nothing to look forward to except How to Poop workshops and geriatric Aerobics lead by an instructor who moonlights as a pole dancer.
I wink at her husband, the brother in law who performed elicit acts on stage while wearing a cap and gown. He has exchanged his marine uniform for a Darth Vader breathing mask at night. He takes a cupful of pills every morning to keep him alive for his dialysis treatment every other night.  He turns off the volume on his Blue Tooth hearing device.
"I can't hear you, either."
Now, I no longer feel sound. Hopefully, when Tennessee Ball Fuckers are replaced with death gurgles, that the pain of death, like sound, will be tempered, too. Not just for those who are slipping out of death's door, but for those who are saying goodbye.