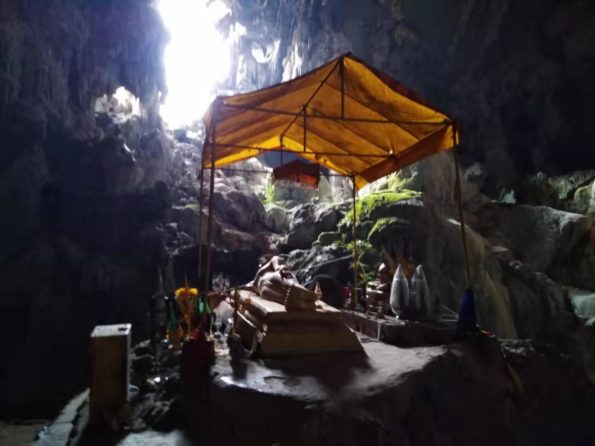 This is the picture you see on tourist websites for the golden Buddha in the Tham Phu Kham Cave in Vang Vieng, Laos. What they don't show you is the black hole behind it, the one that I fell into, in spite of the flash light strapped around my head.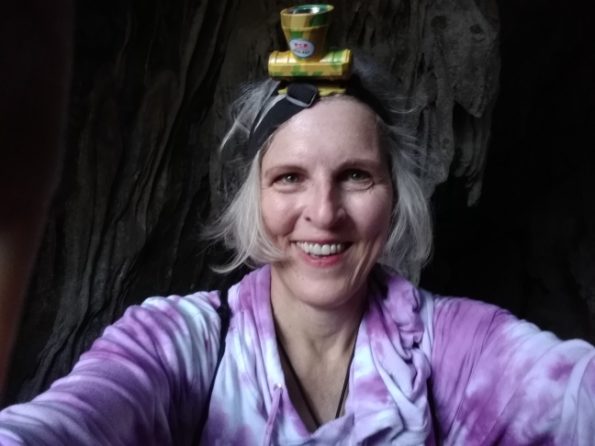 And yes, the cave–not the hole– was beautiful. The Tham Phu Kham Cave is about a 45 minute bike ride from the heart of Vang Vieng. Who knows what the Buddha was doing in the cave. Who knows what I was doing in there, either.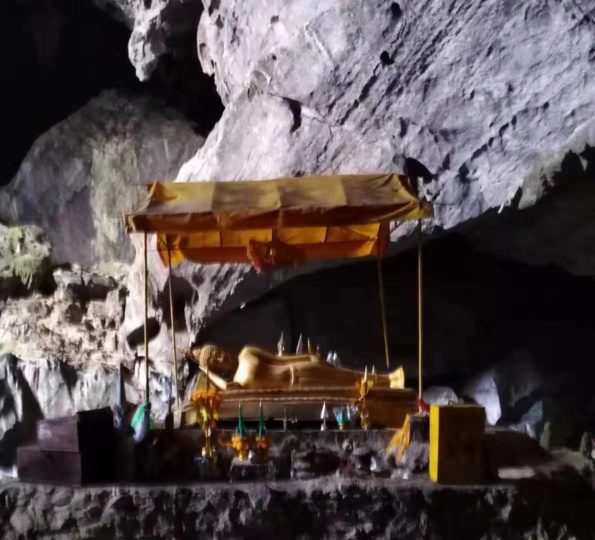 The cave was a bit treacherous. Parks in Asia don't have guard rails, safety restrictions or cautionary cones that say, SLIPPER WHEN WET. Just spray painted arrows.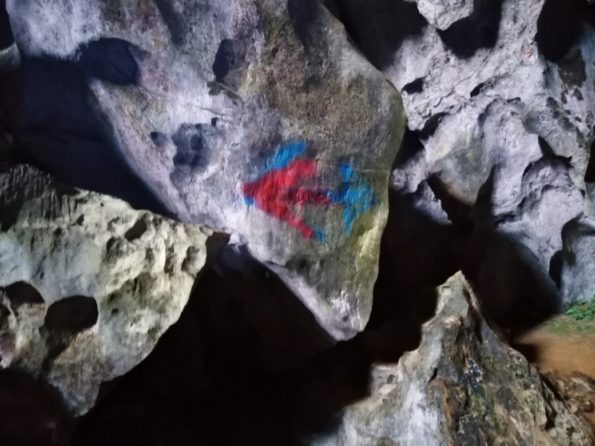 I fell into the hole the same way I did with a manhole that was in the pantry of Jesus People, USA. But I wasn't looking for a golden Buddha. I was looking for a ten pound can of pinto beans. That slip resulted in waterlogged Doc Martens. But when I fell into this cave hole? I was for certain they'd have to amputate my leg.
First off, I had no idea how deep the hole was. I am guessing it went all the way to the molten middle of the planet.
Luckily, I heard a group of Thai tourists who came to my rescue.
My skin barely broke but the vein on my right shin swelled into what looked like a salamander slithering underneath. It kept growing and pulsing into I-think-I'm-going-to-pass-out proportions. I was afraid the pulsing vein would burst like waterpipes in a Chicago winter.
Then the shrine would have to renamed, Reclining Buddha, Falling Tourist.
After I limped out of the cave with the Thai life-savers , I visited the first aid station at the park, which was also the same place where the sandwich lady stored its lettuce. A tuk-tuk driver put ice on my wound along with a tad-too much rubbing alcohol.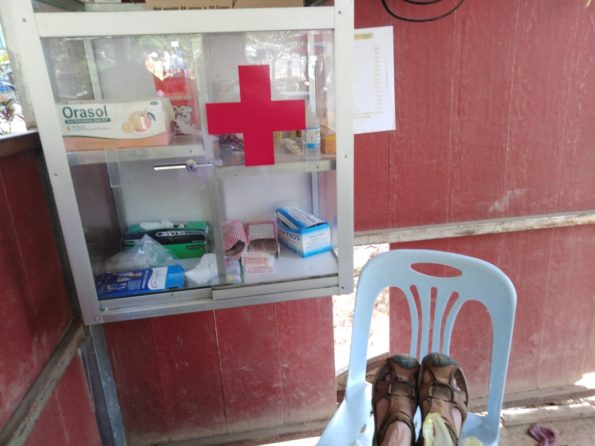 But I lived. They didn't have to amputate or rename the tourist attraction.
Remember tourists, travel brochures only tell half the story. See the beautiful sights in Laos but watch out for holes in caves, landmines and crazy traffic on the streets.