It was as grueling as Beijing-Chicago flight without a beverage cart.
I was the Question Master for an English Speaking Competition (not to be confused with an English comprehension competition) sponsored by China Daily News. It's the third weekend in a row that I've sat in a room for nine hours listening to students struggle to put an "l" on the end of the school. Judging these events pay well. I needed money and English is the new currency of China.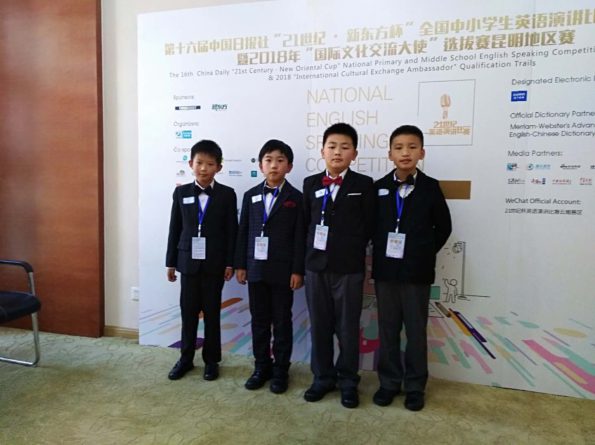 Contestants (all under the age of thirteen) squeeze in a room the size of a sardine can with their proud parents, half of which forget to silence their phones. Most of the kids have no idea of what they are saying, their speeches copied from the internet, every word memorized, their body gestures as robotic as President Lincoln at Disney World. And their names? Contestants are known only by an assigned number.
After a contestant finished their speech, I'd ask a simple question about what their speech:
"Contestant 11-3, you mentioned the word, butterfly. Is a butterfly big or small?"
"Big."
"Contestant 12-5, you said you want to go to Cambridge University. Where is Cambridge University?
"Yes."
"Contestant 14-1, when is your birthday?"
"Sorry, I do not understand the question."
There are rules to the mayhem. Students are disqualified if their speech goes over two minutes.
Well, the contestants du jour weren't from Kunming but local villages, the kind that step back in time one hundred years except for the satellite dishes on the thatched roofs. Ironically, the topic of the speech was: What will life be like in 2030?  Students rattled off speeches about housecleaning robots and flying cars and homework that would do itself.
That is, until Contestant 18-4.
He was a few inches taller than the other kids, his hair needing combing, his pants a few inches too short. The paper rattled in his hands, his voice somber as he read:
"My mother is a cleaner. She is not young any longer, and she is too thin and too weak to take on the hard work. She had a tumor of the uterus this year. She refused surgery for saving money and for saving time to stay with me. "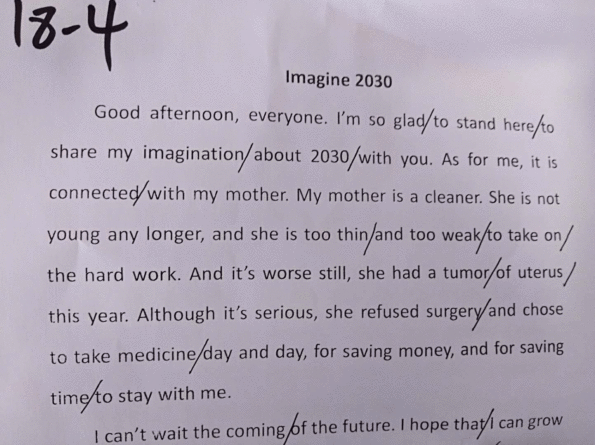 His speech continued about wanting to grow up as soon as possible so he could get a good job to pay for his mom's medical fees:
Contestant 18- 4's voice didn't quiver as he had to show face, the Chinese tradition of keeping one's emotions inside. Since 18-4 didn't cry, his tears welled up in the rest of us.
The bell rang. Contestant 18- 4 went over time. There was nothing I could do. I put down my scoring sheet and said:
"18-4, Your speech touched my heart."
"I'm sorry, I do not understand."
I might as well have said, "Your speech poked me in the liver."
As I kept listening to speeches about robots that did chores and flying cars, all I thought was of Contestant 18-4. His mother was dying of cancer. His speech was disqualified.
Life isn't fair.
But then I remembered the ending to his speech: "… to see at how beautiful the world is", even if it isn't filled with flying cars or robots.
This is the day which the LORD hath made; we will rejoice and be glad in it. 
Psalm 118:24
read more posts: tastyfaith.com