My 9th grade language learners started reading Ernest Hemingway's, "The Old Man and The Sea" for one simple reason: I found a free downloadable bilingual copy online, thanks to China not really caring about America's copyright rule.
Actually, I'm intrigued by Hemingway as many Michiganders are, as he hung out where I do in the summers, near Charlevoix. Plus, Hemingway has a writing style that, according to Faulkner, "Has never been known to use a word that might send a reader to the dictionary." AKA: easy for language learners.
And finally– as if writing this blog post was in the style of a three point essay–I wanted to read the short story because of my personal affinity with the long snouted fish: I was bequeathed a seven foot marlin caught by my aunt who was barely five feet tall.
If you haven't read the classic, let me condense it into a tweet: an old man  is obsessed with catching a huge marlin after going 84 days without getting a nibble.
If you haven't read about my marlin, click here.
When I told my students that I had a marlin, they put down their cell phones.
"Really?"
"Yes."
"Did you bring it to China?"
"No. It didn't have a Visa."
"Did you eat it?"
"No."
"Where is it?"
"Hanging on the wall of a Mexican restaurant in Northern Wisconsin." I didn't go into the details on how it migrated north of Chicago because of a divorce that's getting as ridiculous as the final season of LOST. Their questions continued:
"Is there meat in it?"
"No. the meat is gone."
"Did you catch it?"
"No," I paused, savoring the teaching moment, "It was caught by a woman about the size of a fourth grader but almost my age."
After I stopped blubbering, I asked my students about what was their marlin, in other words, what was the big fish or problem they were trying to overcome. Students wrote:
"Biology is the fish I am trying to tackle."
"Speech class isn't a marlin, it's a whale!"
"Pressure from my parents."
As we started talking about dreams and perseverance, I realized the story wasn't just for my students, it was for me.
As I've been forced to reinvent myself at midlife with not much more than a wok and Chinese translator, I wonder if some of my dreams have past their expiration date. Publish that manuscript? Go back to school? Find the "other fish in the sea" that my dad promised was out there in the part of the world where Westerners flock for young Asian wives?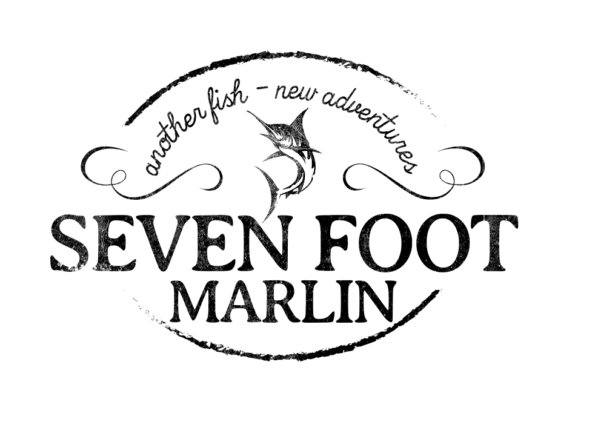 Yeah, right. And while you're at it Ginger, reel in world peace and clean Chinese public johns.
Then I thought of the seven foot marlin that my four foot aunt reeled in.
Or the old ladies carrying washers on their backs.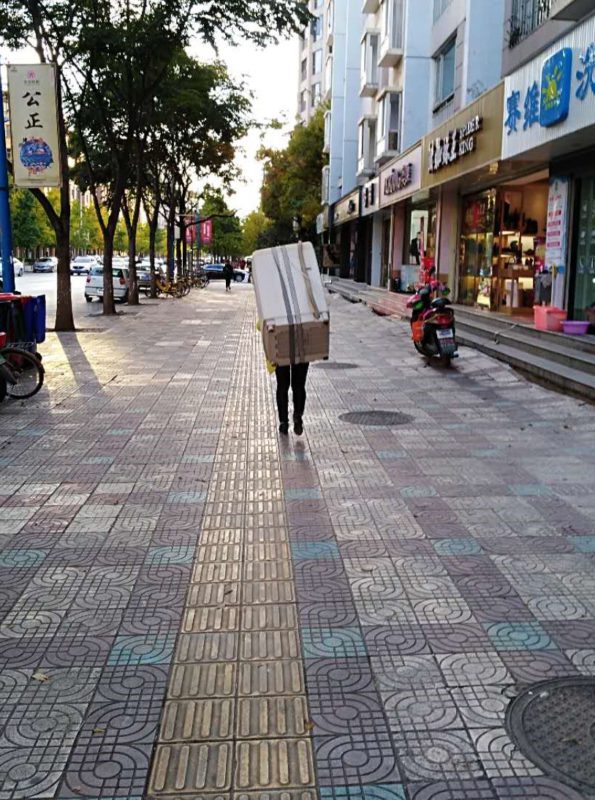 Nothing is impossible unless of course, you don't try.
A fellow teacher knows a lady in a village outside of Kunming with breast cancer, The cancer spread throughout her body. This poor woman couldn't afford a doctor and hospitals don't have palliative care. After her brittle arm turned sour with gangrene, the woman amputated her own arm.
OK. I understand if this brave woman just wants to go for a boat ride for the rest of her days. But the rest of us? We should give it our all just because we can.
Keep on casting out that line.
Blog, Flipside, Thailand
The Facebook message found me on fringes of Southwest Thailand.
It was from John, first home-town boyfriend and now writer for the local paper.
"Lori Danneffel died."
This can't be right. I just saw her this summer.
Lori?
She has a husband. Grandkids. A contagious laugh that still rings in my ears.
A pit forms in my stomach, the kind with the weight of a bowling ball.
I think of John's job, having to proofread obituaries of people who will forever be a part of us. Parents who drove us to band practice, a favorite teacher.
And now, friends.
I read the message again and peck out a nonsensical six-letter reply:
T-H-A-N-K-S.
But I'm really not thankful for news like this.
And just like that, Thailand disappears. I was in Mae Hong Son, a town nestled up to the Burma border, the end of a squiggly road with an infamous 1864 curves. The temples, the bird chirps, and mango trees are pushed aside as I make a trip to my past, exit 41 on I-94 in Southwestern Michigan. Thirteen time-zones and light years away from wherever I am.
Smoking cigarettes on the top of outhouses. Listening to Aerosmith while fluffing flowers for homecoming floats. Gasping at the latest comments posted on the walls of the stalls at the Standard gas station. Then pulling out a marker to write our retorts, dotting the "i"s with flowers.
And Lori's plaid bell-bottoms.
Yes, plaid.
A toothy tuk-tuk driver helps me find a room near the city center as the hotel i booked on Agoda was 200 km away from wherever I was and wherever it was supposed to be.
Eight bucks a night. An almost-hot shower, toilet with a seat, mattress on floor.
And right outside, there is a New Year's celebration.
The sky dazzles with yellow stars and floating lanterns.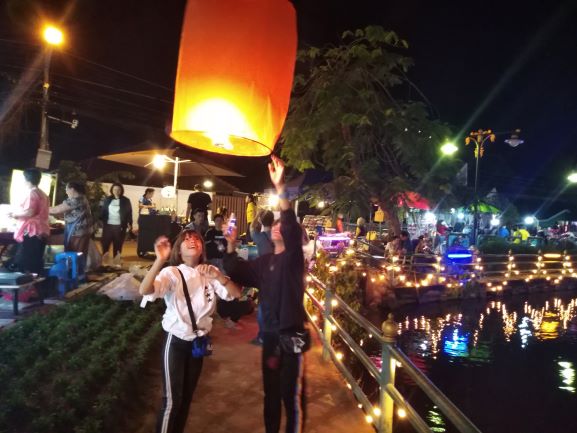 But inside, memories flood my mind.

Selling donuts before school. Getting locked in the instrument closet in the band room. The smell of valve oil. Chipped clarinet reeds. Toilet papering teacher's houses.
I return to Mae Hong Son and my eight-dollar room.
New Year's morning, I stumble out of my hotel for my juice fix, noticing something was odd. I wasn't the only one up. Women dressed in their Easter best, carrying Easter baskets were everywhere. Fine Thai silk skirts and tailored jackets. But it wasn't Easter. It was New Years.

And Thailand is a Buddhist country.

I decided to follow the women, me still with bed head and my thoughts running away with my past. Locker combinations. The smell of Cupani pizza. The seating arrangement in typing class. As I turn the corner, I see hundreds of Thai have lined the street, waiting for the sun to rise and give alms to the monks.
As the drums start, a saffron robes appear beneath the sun. Between every beat, I hear Lori's laughter. Her cracking jokes in Mr. Bendnarowki's class. Bragging about her grandkids. But never a complaint about her hip replacements. Ever. Had she had three? Yes, three.
Not grand kids. Hip replacements.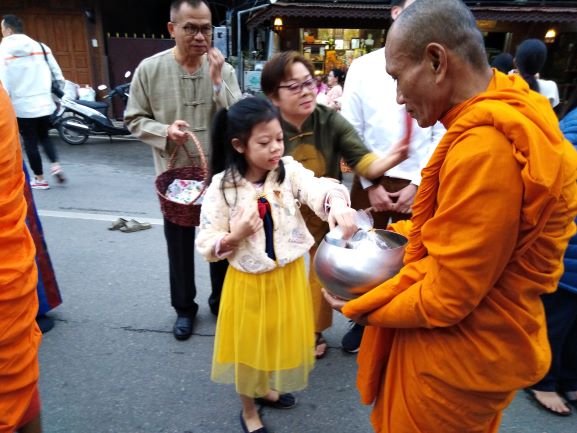 As people approach the monks, they remove their shoes and fill the baskets with gifts. Small bags of rice. Oranges. Milo chocolate drink packets. Flowers. Over-flowing baskets are poured into rice sacks carried by helpers. The elders slip gifts of money into the folds of their robes.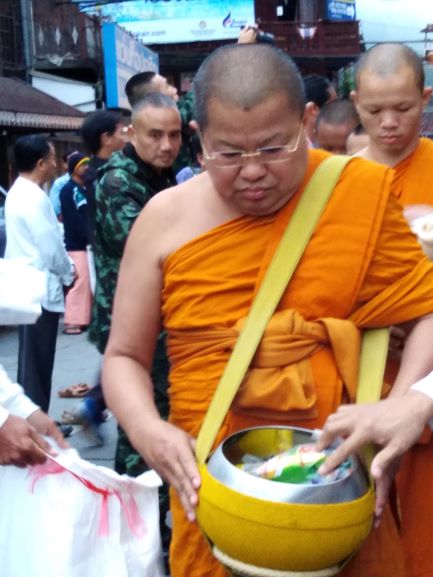 As the procession continued, my mind floats again back to Lori. In Mae Hong Son, the parade was paying homage to the monks. But in my mind, the parade was paying homage to Lori, and the memories that are a part of me.

The past is never dead. It is not even the past. William Faulkner
You can watch more of the Mae Hong Son Monk procession below.