It was the thing Steve Jobs dreamed of: first graders in China Skyping a farmer in America. My friend Fran agreed to be my Show and Tell exhibit and answer questions about her farm in Indiana over eight thousand miles away. Thanks to the tech guys, Fran showed up Thursday morning without a VISA yet.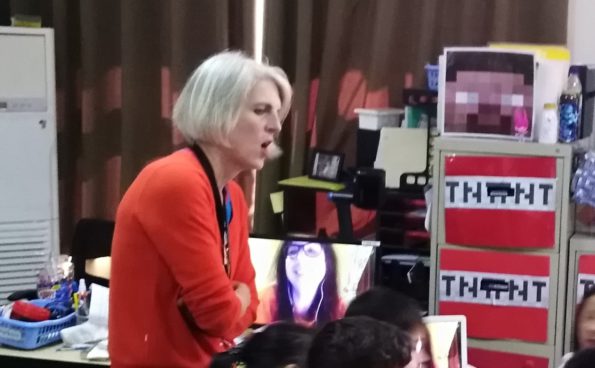 The first graders had written questions earlier in the week to ask Franny Farmer. I suggested asking about her donkey that eats candy, her llama named Obama, her horse, cats or even the kitten she once had that broke its tail.
So what question did all of the students ask?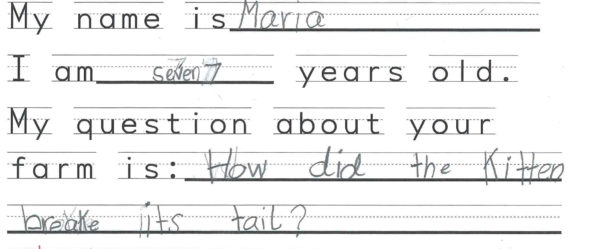 "We think the donkey stepped on it." Fran smiled.
Next question.
Hi, I'm Pedro and I'm six and I'm from Brazil (he's the kid who licks the glue sticks). How did your kitten break its tail?"
Fran smiled. "I just answered that."
That was followed by ten other first graders who asked the same thing, except for Arthur. He wanted to know if Fran had a robot horse.
It's funny the things that are so important for a first grader to know. How a kitten broke its tail. Who runs the fastest. Who's the tallest. Who has seen a panda bear.
Questions from third graders are harder to answer.
Erika, a bubbly Russian version of Pippi Long-stocking is moving away. The rest of use made a surprise farewell movie. Here's Steve the Oreo cookie (the class mascot) saying goodbye:
After watching the movie, Jared, the class's top speller, had a question "Mrs. Mac, why did that movie make me so sad?"
A bit harder to answer.
Later that week, I was hit with another question. This time, a real doozy from David, a senior. When he was my student in 2011, David could barely understand how to make a peanut butter sandwich. Now he's applying to Ivy League schools. I can't look at him without imagining a bit of Skippy on his face.
"Mrs. Mac, can I ask you a question for my world view class?"
"Sure."
"What is the purpose of God?"
The question about how the kitten broke its tail was a lot easier. "I've never been asked that." If God were to have a purpose means God is a creation, not a Creator. It fell in the category of questions such as: can God could create a mountain so big He can't move it?
I tried rattling off a quick answer before the lunch bell rang."You stumped me, David. But I do believe in God because to believe in God is to believe in the power of the imagination…that anything is possible…including a ten year old boy not knowing a lick of English now applying at Ivy League Schools.
"Thanks, Mrs. Mac."
I went home feeling good. All of my students' questions were answered yet I had a few of my own. Who decided the order of the alphabet? Can you cry underwater? Do penguins have knees? Why is the cereal called Grape Nuts if it contains neither grapes or nuts? Where does love go when it leaves a relationship? Does it turn into hate or is it recycled like glass bottles? The same with the fat that you lose: does someone else find it? And did Jesus ever learn how to swim and if so, why? Finally, the hardest question of all:
Where to find Jell-o in Kunming, China for Thanksgiving?
Answer?
At Carrefour next to the Russian cheesecake mix and gluttonous noodles.
Questions are good, even if they can't be answered.
 The secret things belong to the Lord our God, but the things revealed belong to us and to our children forever, that we may follow all the words of this law. Deuteronomy 29:29
Blog, Flipside, Thailand
The Facebook message found me on fringes of Southwest Thailand.
It was from John, first home-town boyfriend and now writer for the local paper.
"Lori Danneffel died."
This can't be right. I just saw her this summer.
Lori?
She has a husband. Grandkids. A contagious laugh that still rings in my ears.
A pit forms in my stomach, the kind with the weight of a bowling ball.
I think of John's job, having to proofread obituaries of people who will forever be a part of us. Parents who drove us to band practice, a favorite teacher.
And now, friends.
I read the message again and peck out a nonsensical six-letter reply:
T-H-A-N-K-S.
But I'm really not thankful for news like this.
And just like that, Thailand disappears. I was in Mae Hong Son, a town nestled up to the Burma border, the end of a squiggly road with an infamous 1864 curves. The temples, the bird chirps, and mango trees are pushed aside as I make a trip to my past, exit 41 on I-94 in Southwestern Michigan. Thirteen time-zones and light years away from wherever I am.
Smoking cigarettes on the top of outhouses. Listening to Aerosmith while fluffing flowers for homecoming floats. Gasping at the latest comments posted on the walls of the stalls at the Standard gas station. Then pulling out a marker to write our retorts, dotting the "i"s with flowers.
And Lori's plaid bell-bottoms.
Yes, plaid.
A toothy tuk-tuk driver helps me find a room near the city center as the hotel i booked on Agoda was 200 km away from wherever I was and wherever it was supposed to be.
Eight bucks a night. An almost-hot shower, toilet with a seat, mattress on floor.
And right outside, there is a New Year's celebration.
The sky dazzles with yellow stars and floating lanterns.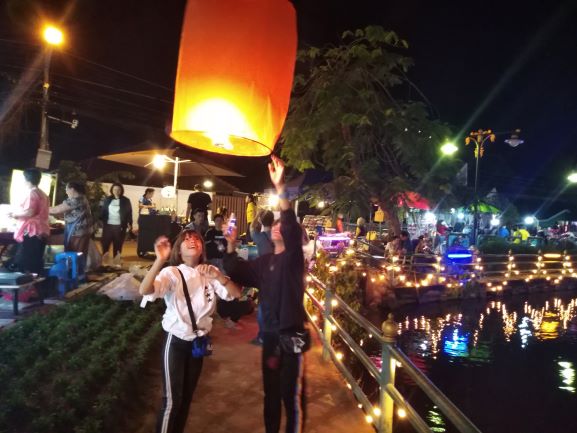 But inside, memories flood my mind.

Selling donuts before school. Getting locked in the instrument closet in the band room. The smell of valve oil. Chipped clarinet reeds. Toilet papering teacher's houses.
I return to Mae Hong Son and my eight-dollar room.
New Year's morning, I stumble out of my hotel for my juice fix, noticing something was odd. I wasn't the only one up. Women dressed in their Easter best, carrying Easter baskets were everywhere. Fine Thai silk skirts and tailored jackets. But it wasn't Easter. It was New Years.

And Thailand is a Buddhist country.

I decided to follow the women, me still with bed head and my thoughts running away with my past. Locker combinations. The smell of Cupani pizza. The seating arrangement in typing class. As I turn the corner, I see hundreds of Thai have lined the street, waiting for the sun to rise and give alms to the monks.
As the drums start, a saffron robes appear beneath the sun. Between every beat, I hear Lori's laughter. Her cracking jokes in Mr. Bendnarowki's class. Bragging about her grandkids. But never a complaint about her hip replacements. Ever. Had she had three? Yes, three.
Not grand kids. Hip replacements.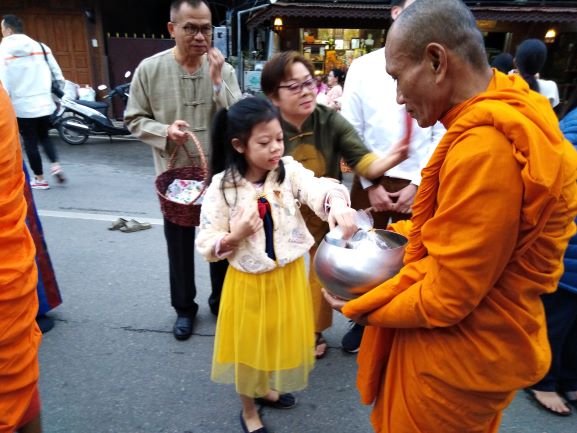 As people approach the monks, they remove their shoes and fill the baskets with gifts. Small bags of rice. Oranges. Milo chocolate drink packets. Flowers. Over-flowing baskets are poured into rice sacks carried by helpers. The elders slip gifts of money into the folds of their robes.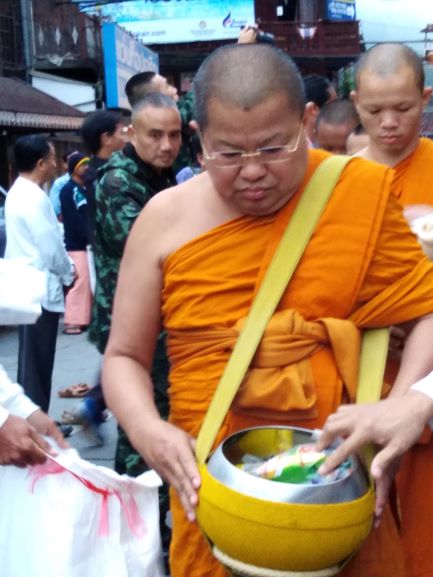 As the procession continued, my mind floats again back to Lori. In Mae Hong Son, the parade was paying homage to the monks. But in my mind, the parade was paying homage to Lori, and the memories that are a part of me.

The past is never dead. It is not even the past. William Faulkner
You can watch more of the Mae Hong Son Monk procession below.