E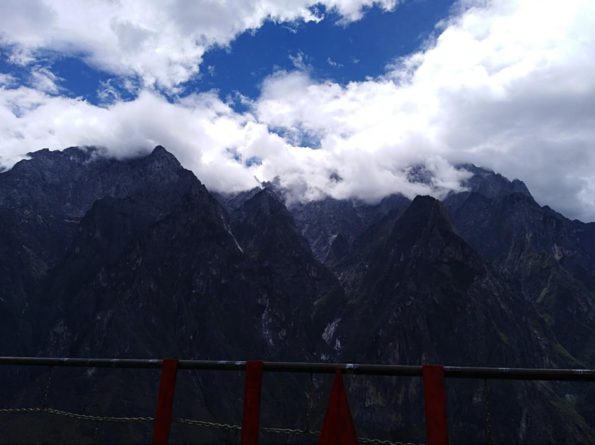 very now and then, it's good to risk your life.
Yes, a few friends and I braved Tiger Leaping Gorge near Lijiang, Yunnan and didn't even get a "I risked my life and all i got was this lousy T-shirt".
The only view more stunning than the gorge when I jumped out of a plane in college and ended up breaking my back. It was autumn in Tecumseh,  Michigan, the trees looking like a box of melted crayons had been dumped on them. And out of the plane fell tiny "t"s which exploded into colorful m&ms.
Then I landed wrong, crunching my back like an accordion.Yes, the girl who was once five foot six is now five foot five.
Bailing out of an airplane was as crazy as crazy as it was beautiful.  And last week, I experienced the insane beauty  of Leaping Tiger Gorge, 虎跳峡,  or Hǔ tiào xiá, which is about two hours away Lijiang, Yunnan, otherwise known as the Wisconsin Dells of China.
Lijiang is a tad bit commercial, and sadly, doesn't need to be.
My guests –a fifty year old couple and their twelve year old son– had to visit the gorge. After all, it  was featured on that reality show, The Great Race. And we had to prove it to our over the hill bodies that we still had it in us to climb a few.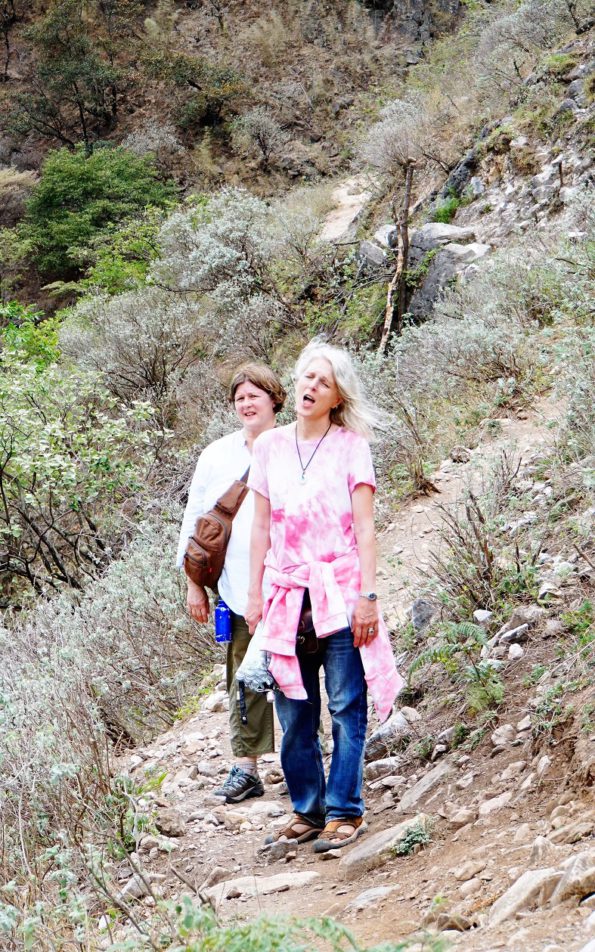 The Leaping Tiger name comes from the Chinese legend that a  tiger jumped across the  milk chocolate colored branch of the Yangste.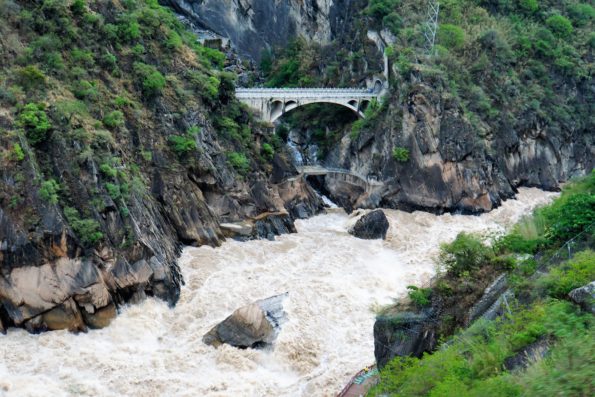 Of course, the cameramen and networks edited out the real dangerous stuff for the TV show, like how the path isn't marked and how there are no "you are here" signs along the way or toilets or snack shops with overpriced bottles of water and Snicker bars.
Instead, the trail was reminiscent of old Road Runner cartoons where the coyote would hang onto a dried root on the side of a cliff before an anvil would fall out of the sky and push him over the edge.
Yeah, it was like that. BEEP. BEEP.
Sobeing typical American tourists, we decided to go without doing much research other than what we saw on the reality TV show and asking the Mama of the Mama NaXi  Guest house were were staying at  what time the bus would pick us up.
Seven am. BEEP. BEEP.
We had the choice of three ours, one being ten hours, one being six, and  one the "let's say we did it" three hour hike.
Well,  the  bus dropped off  the few serious hikers with sherpa style back packs at the official starting point,  a few German girls who  constantly tugged their micro shorts at another trail head. But my friends and me? They just dumped us off at the side of a winding road…the bottom of it.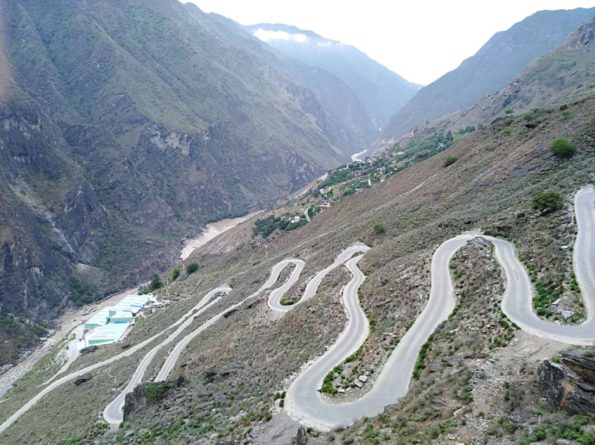 There were no "You are Here" signs, no snack stands, no toilets, no trail markers along the way except a few arrows painted on rocks, letting you know that were were on the right path.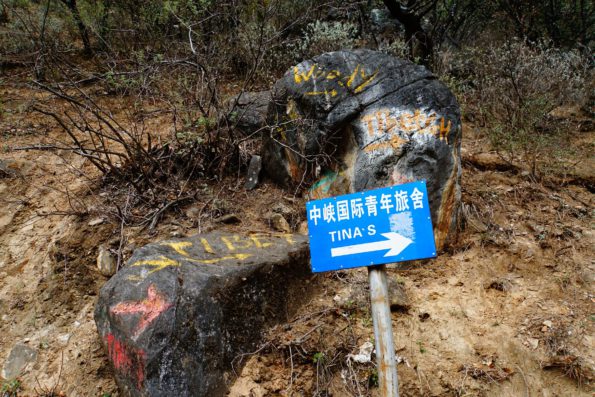 We panted up a switchback path, we being three "can my heart survive this?" adults and one twelve year old. We got soaked walking through a waterfall,  passing goats and navigating steep inclines,making sure we didn't lose our balance on the slippery rocks and red clay dirt.  We didn't see any other hikers other than goats and a poster child for the American Heart Association who pranced passed us like a gazelle.
Really? You aren't sweating or even short of breath?
However, the view was worth every aching muscle. It was the kind of view that you can't capture on film because it's  so emotional, so immense, so "Dang, I'm so insignificant" compared to this big blue marble we're living on.  The view was one of the last on this planet without a Starbucks or billboards or cell phone towers, the kind  that makes you realize how small your problems are, how immense our creator is, and how screwed you'd be if  you were to twist an ankle.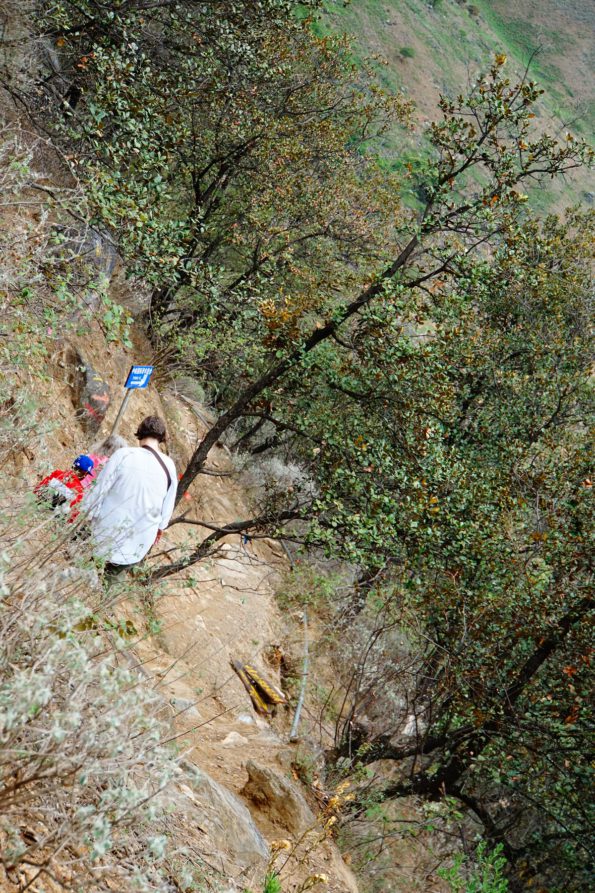 Well, we made it off the trail, all of us forever changed.  And all equally as thankful that we didn't google how many people had died hiking the gorge until we were back at our guesthouse smearing on the Ben-Gay.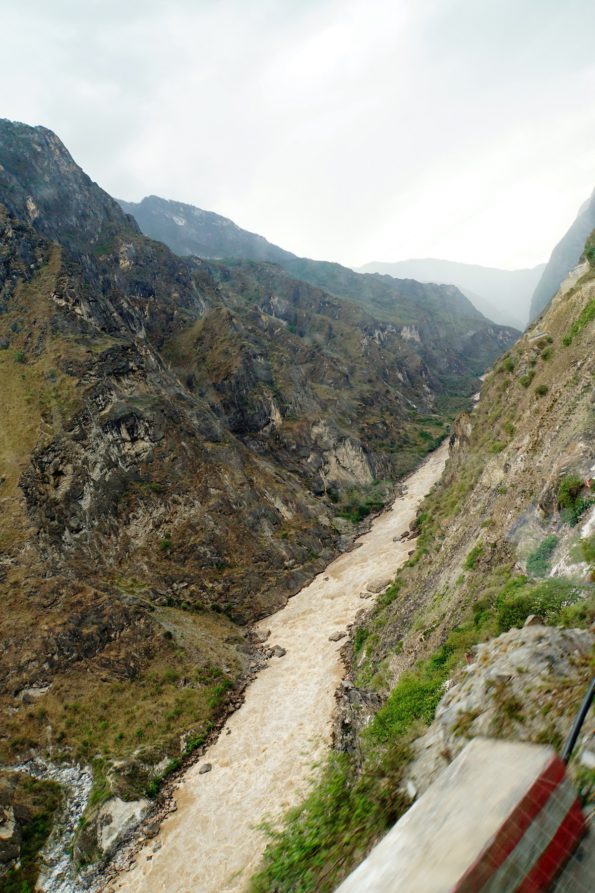 More than a few have been swallowed whole by the river.
But we survived…some parts better than others.