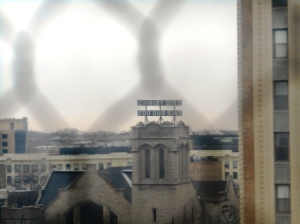 So I've been incarcerated for almost a year now.
Not at Cook County,  but Jesus Jail.
But you might know it as Jesus People or JPUSA, an intentional faith based living community. Folk from all walks of life live here: artists, musicians,  junkies, punkies, the tatooed, tattered and torn, all taking  time out from whatever broke them to recover. And people come from around the world to visit Jesus People, and usually tag on a visit to another small area church named  Willowcreek.
JPUSA is a place that's both freeing and confining,  healing and brain numbing, like a correctional institution for the faithful.
All that's missing are the orange peels.
Let's start with my cell.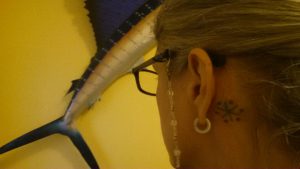 It's about the size of my dorm room at college minus my bong and Pink Floyd.  My cellie is a seven foot marlin bequeathed to me by my late aunt. She also left me my furniture: two swivel chairs with plastic slipcovers that stick to your thighs like band-aids.
My bathroom is right up there with one at a small gas station. All that's missing is a key chained to a long piece of wood and a condom machine.  It motivated me to join a local yoga club…just to use the showers!
I earn my keep at Jesus Jail by cooking in the kitchen.
I don't wear Ann Tailor separates but aprons I made out of old linens plus steel tip Doc Martins.  I don't bring my shoes to a cobbler for weekly polishing. Instead, I scrape cockroach carcasses out of  the treads with a butter knife.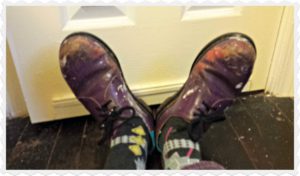 Yeah, so it's like jail.
So you might ask, why don't you break out of Jesus Jail?
Well,  cuz parts of me love it.
I love that in Jesus Jail, I hear thank you like a zillion times a day.
I hear it from the three hundred and fifty  people I cook for,  even if I mistakenly poured  a gallon of sriracha sauce in the pho recipe instead of a cup.
I hear it from the teens who pester me for Ramen noodles after I spent all day making them real Asian cuisine.
I hear it from the low income seniors who occupy the top three floors, including Kevin, a fair skinned warty old guy with only one leg.  I was phone-sitting in the lobby one day when Kevin was there, sitting by himself. He walked over to me and asked,
"Will you please talk to me? I'm so lonely."

It broke my heart.
I hear "thank you" from assorted couch surfers from all over the planet, including a refugee family from Africa with clothing more colorful than a bag of Skittles.
(But they didn't say thank you, they said, Merci.)
I also love Jesus Jail because i love the neighborhood, Uptown.
Granted, I did hear three shootings this year, including a guy shot in the wiener right outside my window.
I love the homeless lady with blue eye-shadow who's writing the great American novel in the empty lot across the street–longhand.
I love the colorful lady who wears her prom dress to the bus stop.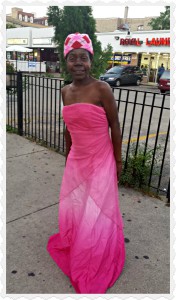 I love Jesus Jail for the prostitutes we feed, including one who cried when we invited her inside for a peanut butter sandwich.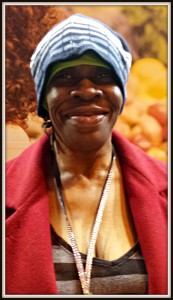 I love Jesus Jail for Flo and her floppy smile and lotto tickets, Neal and his morning weather report, Efrem and his corny jokes.
I love Jesus Jail for  all of the "hairy and scaries" that come for free hot dogs after Cubs games. Their eyes are sunk in, their teach rotted out, their hair like birds nest, their hunger more for meth than for nitrates and mustard.
I love Jesus Jail for the homeless guys that I buy donuts for  every weekend.
I love Jesus Jail because I don't use my head, I use my heart, which is considered a crime by society…or at least by some who want to bake me a cake with a file inside. "Get a real job already!"
Several guys in the bible spent time in Jail.  That's where God got their attention and they had God's.  Paul wrote letters.  Joseph had dreams. Peter had angelic visitors.
And I have my spatula.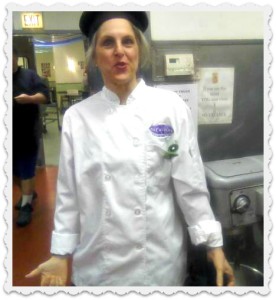 Oh well. Maybe if I exhibit good behavior,  I'll be up for parole soon.
For my fellow inmates who are doing time in Jesus Jail, what do you like about it?