Chaotic, noisy, highly caffeinated with French frou-frou around the fringes with an old Asian soul.
I went to Hanoi to unwind which is was impossible as going to the Willy Wonka Chocolate factory to lose weight.
Don't get me wrong. I love the Hanoi from the dark roast in espresso sized cups to the insane traffic on the maze of narrow streets.
I hopped around different sights starting with the Hoa Lo Prison affectionately called the Hanoi Hilton by the American POWs who stayed there, Senator John McCain being one of them. I'm not a big war history buff but the Vietnam War made a big impression on me as a kid.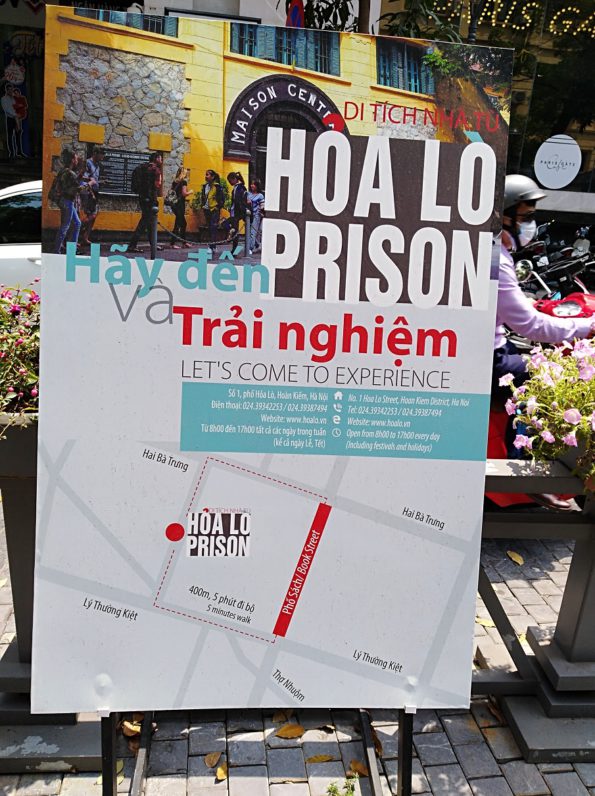 My father would light up a Kent and sit me down to watch Walter Cronkite while waiting for my Mattel thing maker to heat up to make creepy crawlers.
"This is important," he'd say followed by, "Now don't electrocute yourself."
Then, at the County Fait, there was a free exhibit about the Vietnam  War in a small trailer next to the candy apple cart. They used GI Joe dolls to reenact scenes in dioramas, demonstrating  the booby traps and underground tunnels.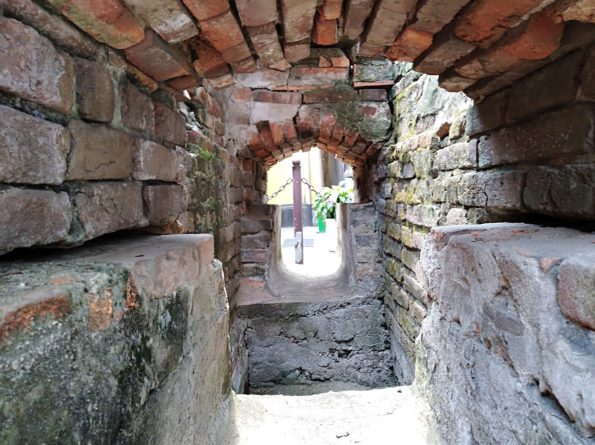 This isn't Jesus' tomb. It's a sewer tunnel that a few brave souls crawled through in an escape attempt. Just like Shaw Shank Redemption.
Anyway, I wrote Senator McCain a long overdue thank you letter. His sense of humor kept  other inmates going. I hope he can read my handwriting.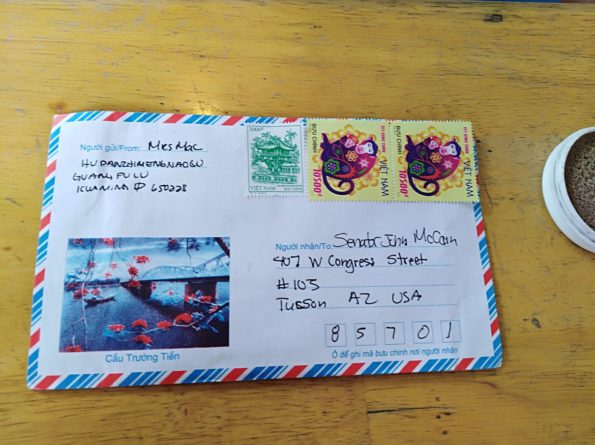 The other thing I wanted to see in Hanoi was the Ho Chi Minh Mausoelum.
The Ho Chi Minh Mausoelum is the Mecca of Vietnam. All citizens will make a Pilgrimage to this place, just like when you grow up in Michigan yo  visit the Kellogg's factory. The crowds are massive so there are  two lines to view the body. One is for the Vietnamese. It rivals the lines for the good rides at Disneyworld, filled with crumpled over war survivors and elementary students in matching T-shirts who are more interested in the hot dogs at the end of the tour than what they are seeing.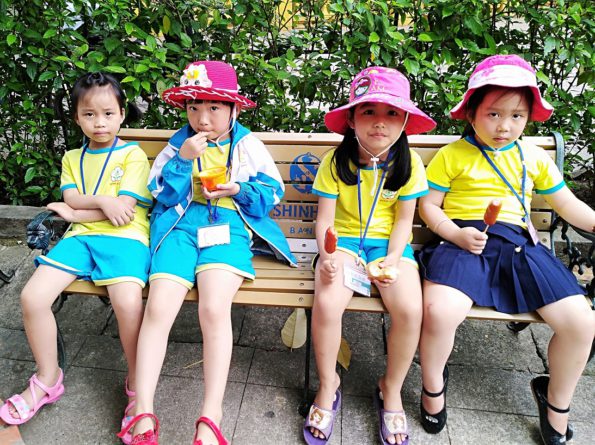 Then there is the line for tourists. It is shorter, just sixteen minutes according to my Huawei phone timer. I waited in line next to a double of Yao Min (the Chinese Michael Jordan) who had to yank his shorts down to make them cover his knees. There is a dress code for most temples and sacred sites in Asia.
We entered the dark memorial for a quick glance at a waxy body glowing under bullet proof glass guarded by four soldiers in Man from Glad white uniforms. It was creepy cool.
No talking, no pictures and no gum. And one more "no" at the viewing:
No Vietnamese.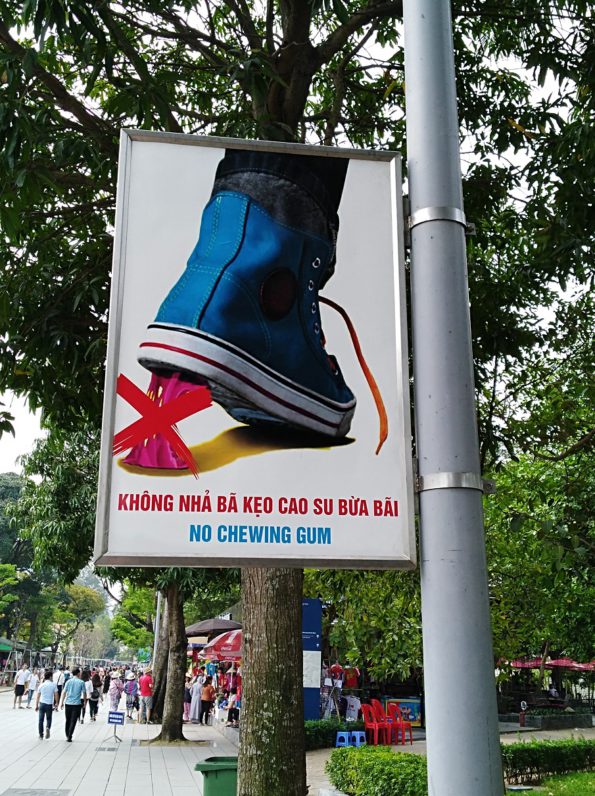 My over active imagination went into overdrive.  Were there two lines and two entrances to the mausoleum because there were actually two viewing rooms, one for the nationals with the real body while the rest of us saw a Madam Tussaud's replica? It could have been a trick box like a David Copperfield magic shows, but on a large scale. I sound a bit like Carrie Mathison on Homeland but who knows.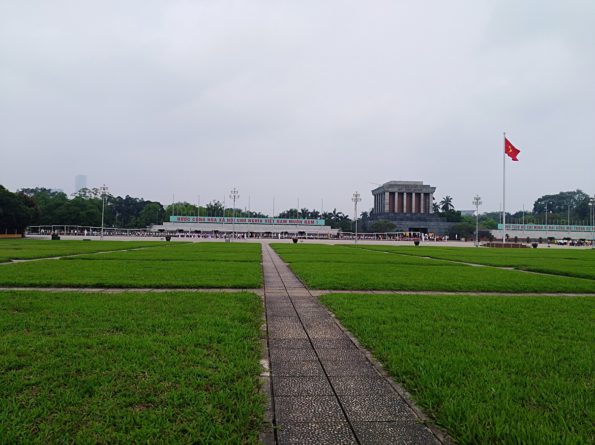 That was the all of the Hanoi culture I could handle. I wandered around and ate and window shopped and discovered those big jugs with the kitty aren't water but Vietnamese moonshine.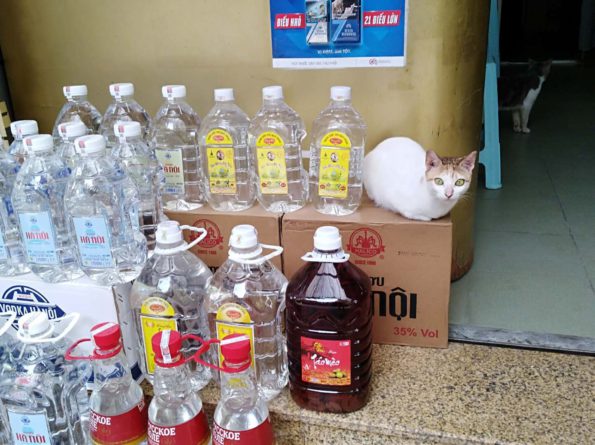 I also passed up a trim at the Hanoi City Clippers.
As usual, I was enamored with the trees. Gnarly roots that crack through the sidewalks, the stories of what they have witnessed through the years making them stronger.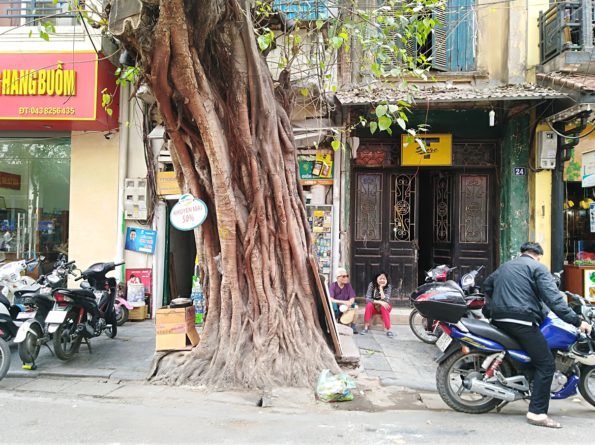 The same holds true with street food. If it doesn't kill you…
So Hanoi is a lot like Parisian bistros but with plastic stools instead of wicker chairs and fried chicken heads instead of stinky cheese.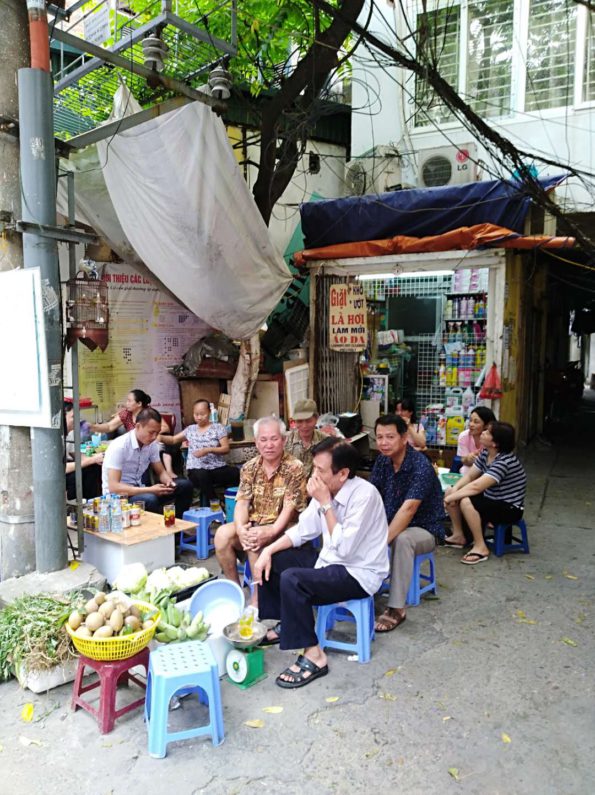 And darn good coffee.