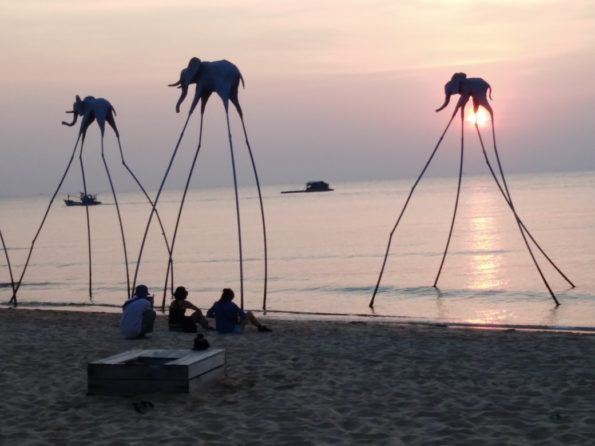 Does wearing weird clothing make music sound better?
I've been at the Epizode music extravaganza this week in Pho Quoc, Vietnam.  What I was seeing was as strange as the techno music I was hearing.
I felt so J C Penney.
Most of the crowd looked like background singers from MTV videos.
First, there was this girl wearing butt floss, which looked painful but it complimented her yellow wig and feather cover up.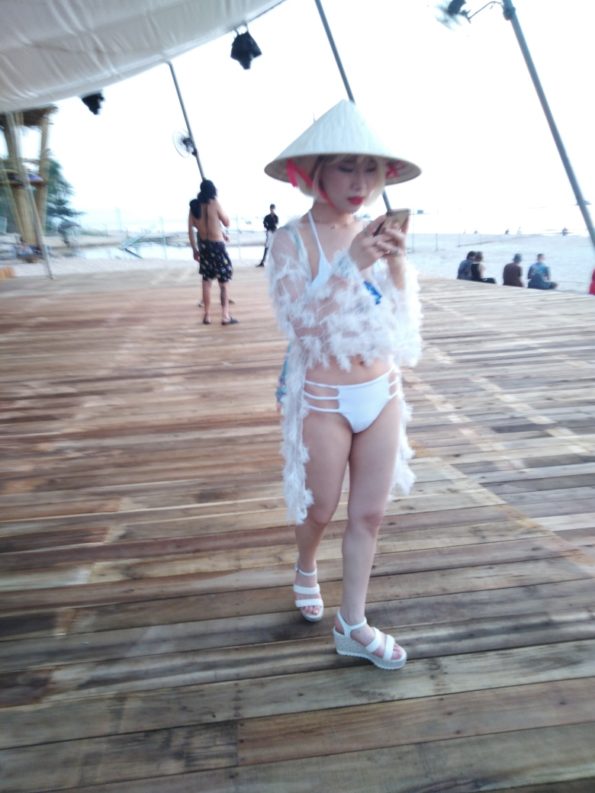 Then there was Miss Cultural Misappropriation.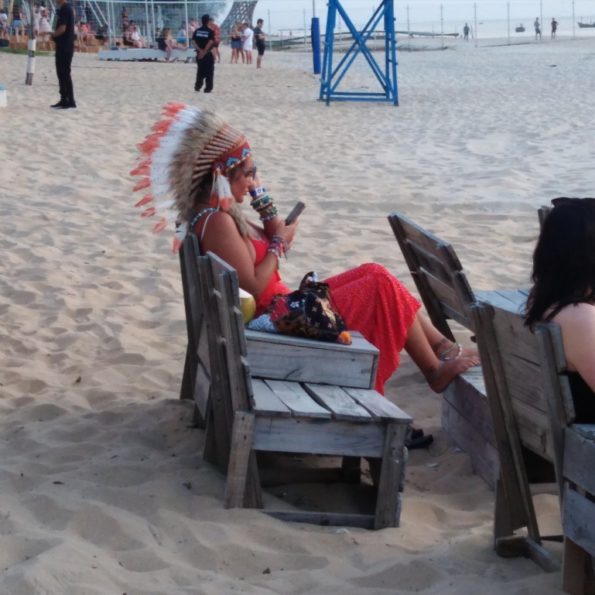 I can't forget about Banana-man.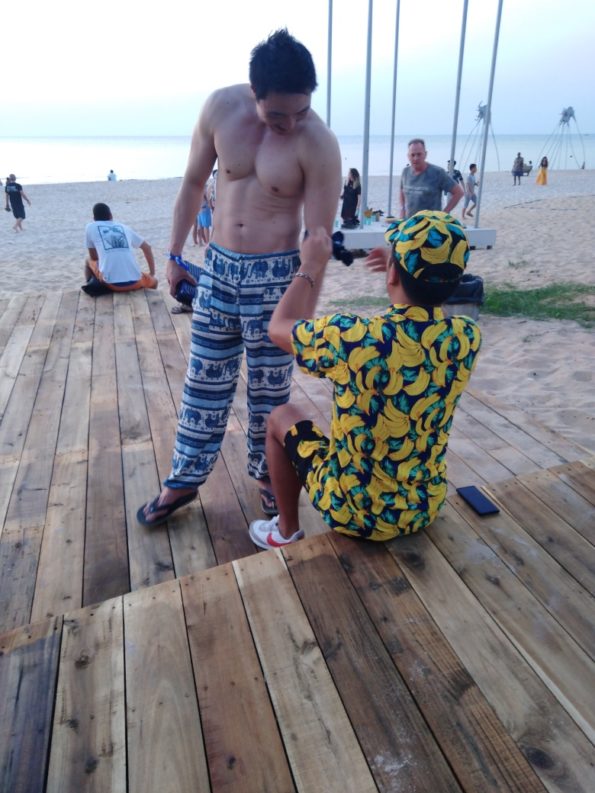 And last but not least, a girl in an invisible skirt. Do you need to worry about panty lines if you wear one of these?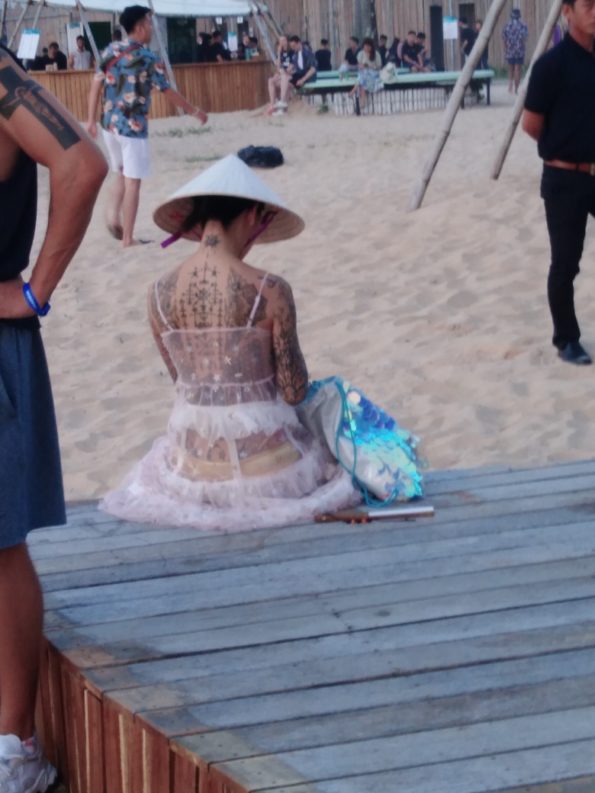 The photographer went nuts taking photos of them all.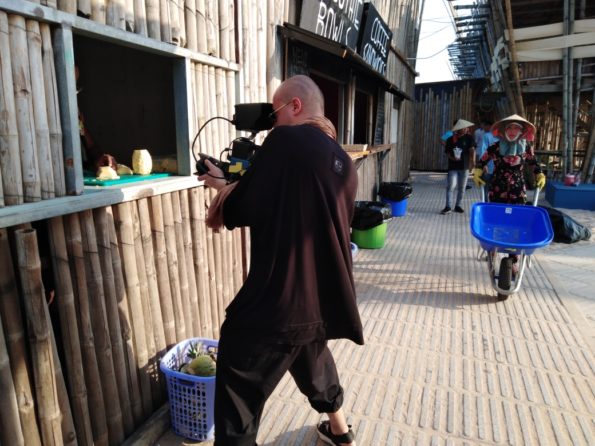 And then there was me.
You'd think that the bouncers wouldn't have let me in due to not meeting the dress code. No dreadlocks, no full body tattoos, no appendages showing.
Epizode's line-up of techno music is what you'd expect to hear at a coffee shop in Amsterdam, not a white sand beach resort. Weirdly enough, the beats rolled with the waves, making Sunset Santo's funky art seem even funkier, and the Russian guy with the beachball stomach in the speedo seem even speedier.
Other than feeling like I committed the ultimate wardrobe malfunction, I enjoyed the music, the crowd, the beach.
So how did I end up at a techno music concert on an island in the middle of nowhere?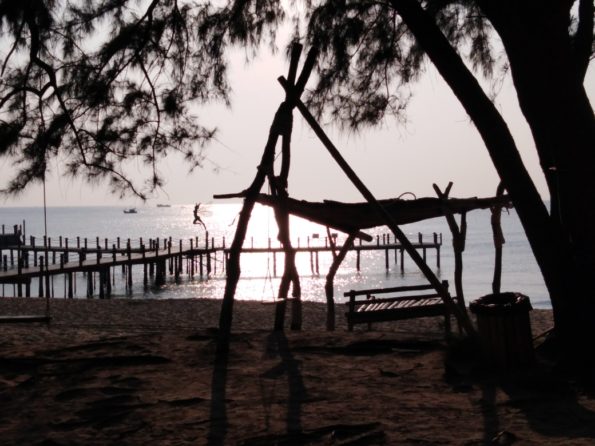 I won tickets.
I thought the trip would be a good chaser after a poke and probe in Bangkok's Bumrungrad.
Being the frugal traveler that I am, instead of flying to Epizode on the island Pho Quoc from Bangkok , I flew to Ho Chi Minh City. Then, for the price of twelve spring rolls, took the local bus to Can Tho in the Mekong Delta. From there, for the price of a foot massage, I got a speedy ferry to the island of Pho Quoc. This excursion also included another twelve spring roll van ride from Can Tho to the ferry port, which was bumpy enough to knock a kidney stone loose.
Now here's my Lonely Planet review of Pho Quoc. Like many resort towns, Pho Quoc is a mix of night markets, white beaches and half-way completed construction projects. No Starbucks yet, but I'm sure one is in the planning. However, Pho Quoc has one thing you won't see in Puerto Vallarta: throngs of Russians. So be ready to throw back some Stolichnaya Vodka with your fresh squid on a stick.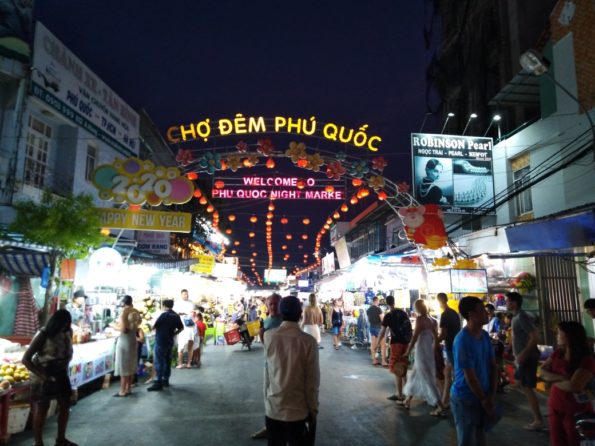 If you want more tips on cheap travel in Vietnam for single women? Gimme a shout.