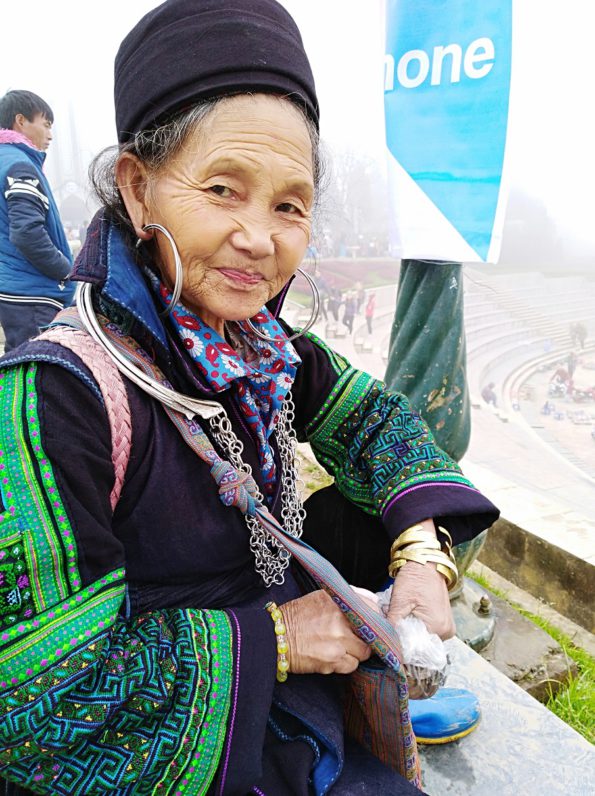 Sapa Vietnam is my Asian version of Door County. Just a six hour train ride from Kunming but light years away from my life. There are fish boils or cheese curds, just a place to write, reflect, and clean out my sinuses with thick vinegary chili sauce.
I took a fourteen cent/ten minute bus ride to the Vietnamese border and literally walked across the border to the land of pho and Facebook.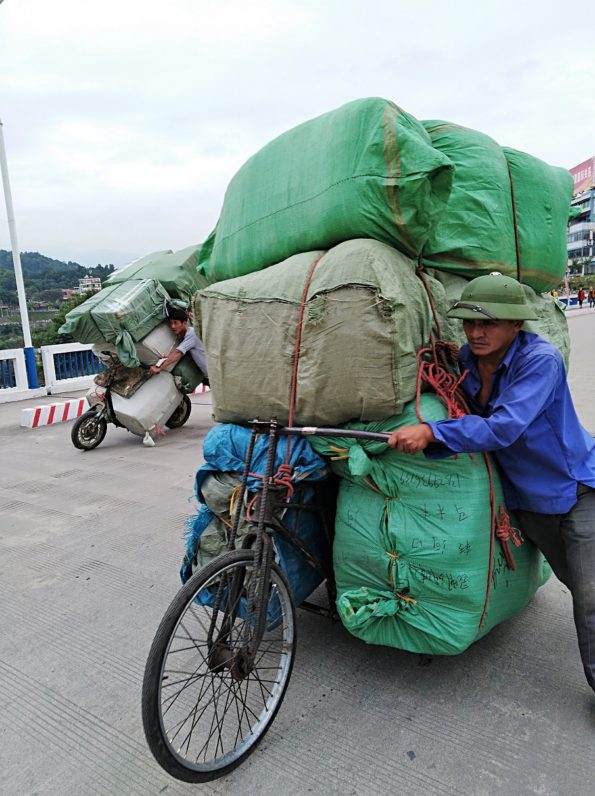 There is traffic moving both ways on the border, and when I say heavy, I mean heavy.
After peeing inside the Vietnam border control building (as the toilets have seats) I splurge and take a two dollar bus to the mountain top city of Sapa. You've probably seen Sapa on a travel channel or on the cover of Nat Geo. But this time, I couldn't see Sapa as the mountain was swallowed by fog. And if I couldn't see anything, that meant the driver couldn't either, including potholes the size of wading pools.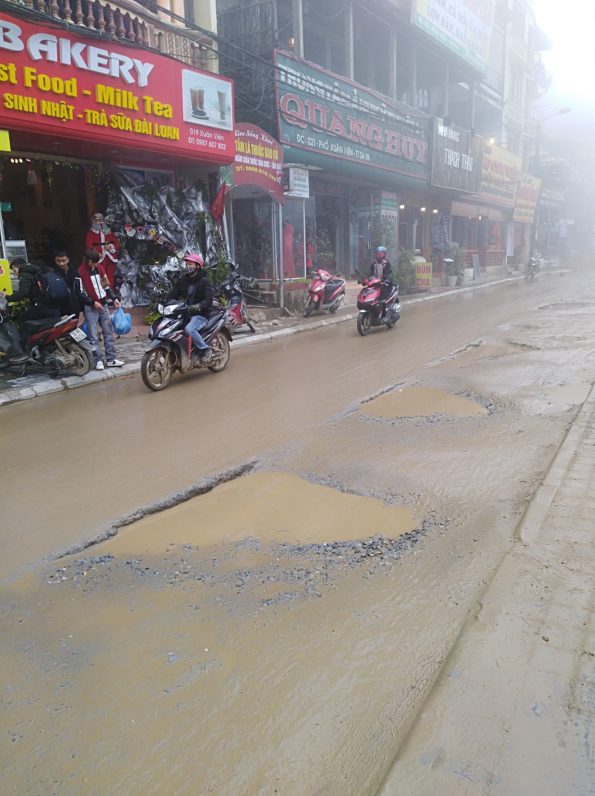 The foggy was as unusual in Vietnam as a sixty degree February day is in Chicago. Once I checked into my $10 hotel, I snuggled under my electric blanket and watched vintage episodes of the Waltons– all dubbed in Vietnamese.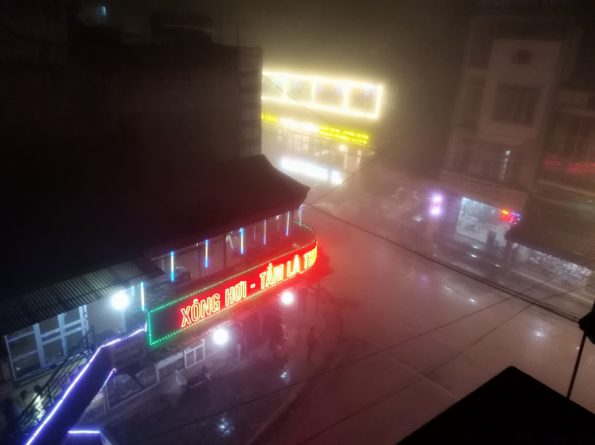 My hotel didn't have the space heater with glowing embers. I's the building with the glowing lights in the back ground–and with electric sheet warmers.
After I said goodnight to John Boy, I put on two pair of long johns and headed to the big attraction in town, the cathedral.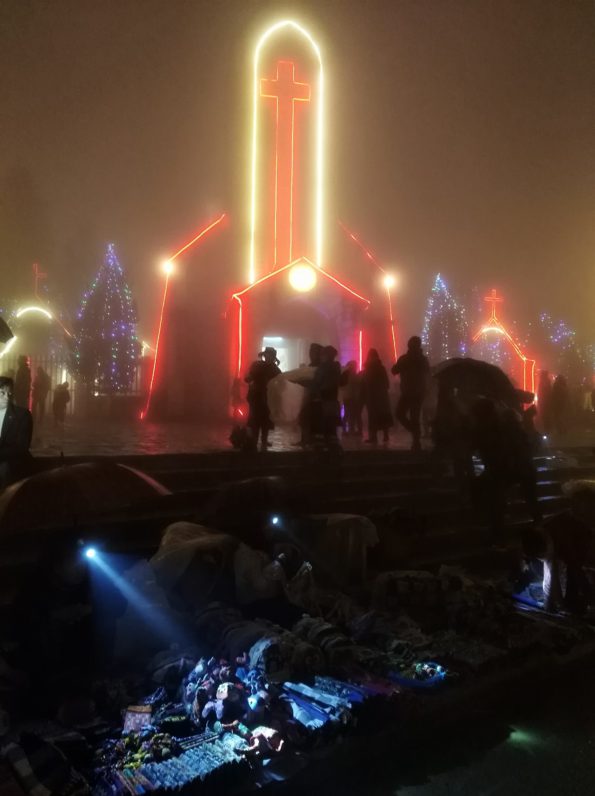 The Sapa Cathedral is surrounded by a night market. Black Hmong and Red Zhou women sell crafts with the help of  lights on their heads like coal-miners. I wasn't in the mood for bargaining. I wanted to sing carols in language with seventy two distinct six vowels. Big screens flashed an occasional picture of Jesus, the same you'd see on religious candles.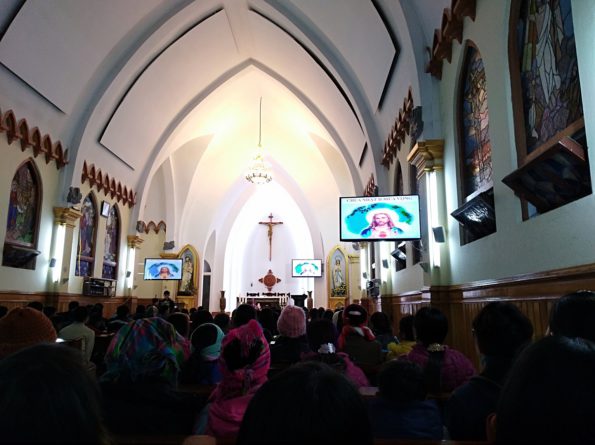 In the morning, I ventured back  to the church and met Bi`nh, a woman six years younger than me. Six years younger, six light years different.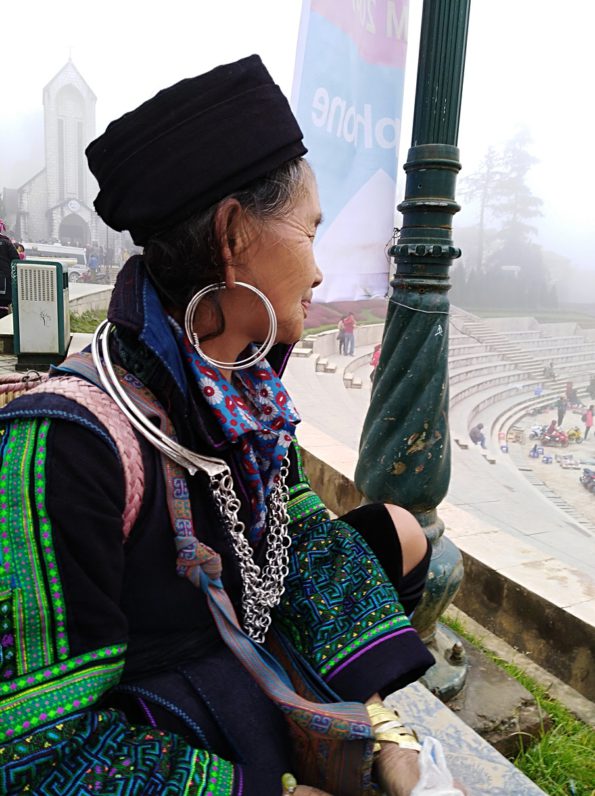 I couldn't relate to her life any more than she could relate to mind. Chasing water buffalo out of my rice fields. Spending her day doing needlework with fabric she made from hemp. Stitching an outfit like this could easily take over a year.
I wonder if Bi`nh is bothered by the number of friends on face book. Or if she had a colonoscopy this year. Of if she knows what a colonoscopy is or if she cares if her laundry is April fresh or knows that she should that there is such a thing as low pulp calcium rich orange juice.
Then I wondered what she wonders about me.
My eyes were glued to her knuckles that were permanently stained indigo blue.
If Bi`nh sold  Mary Kay, she'd have a few pink Cadillacs by now. She tried to get me to buy silver hoop earrings that would stretch my lobes lower than my boobs. I paid her to take pictures instead. She's not your typical Dove Campaign for Real Beauty Cover girl, but who is?My thin skin was getting cold. I walked past the day care center otherwise known as the front steps of the church.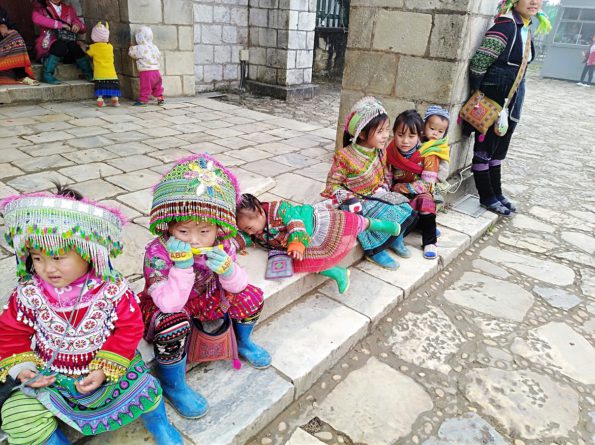 I made it back to my hotel as Bi`nh slipped back into the fog.
…and share rides to work with guys in flip flops.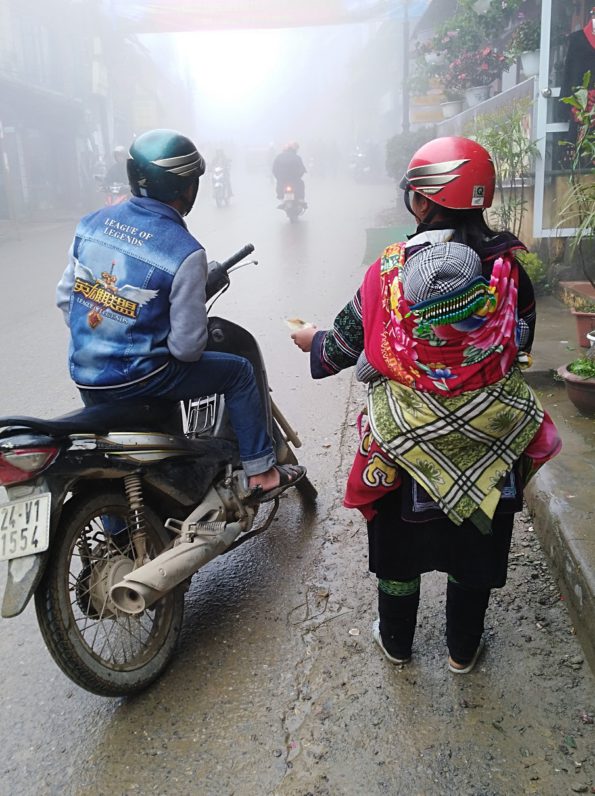 It was a good to slip back into time for a weekend, with or without Jim-bob..