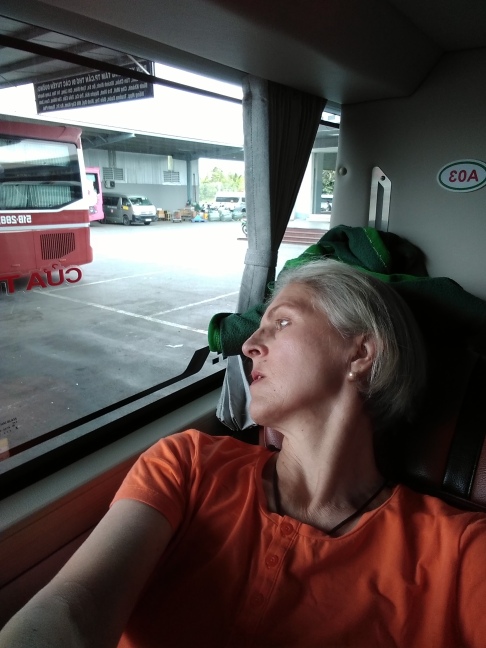 Ok. It has been a couple of interesting days in Vietnam, journeying from Saigon to the Butt Floss Music Concert in Phu Quoc.
Since Vietnamese Dong is impossible for my brain to calculate (a half a million dong being roughly twenty bucks), it's was easier for to use food as a monetary unit, either spring rolls or iced coffee, my two hard core addictions.
Four spring rolls is about two and a half bucks, and iced coffee about a dollar.
Which is why, I made this excursion by bus, ferry and scooter instead of by the five-course meal price of a plane.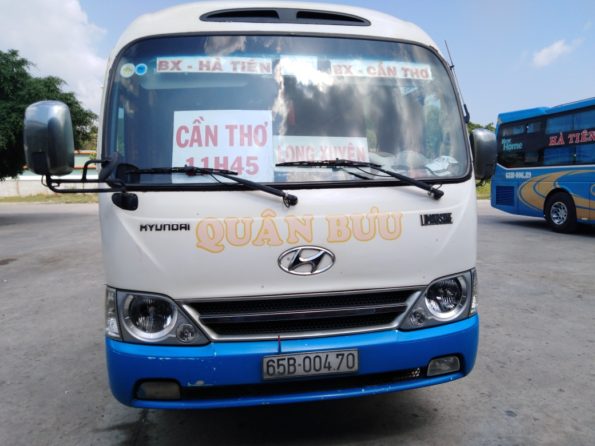 I hopped off the ferry from Phu Quoc with no plan, as usual and just waited for a toothy grinned man to drive up on a motor bike and hand me a helmet in Ha Tien.
"Where to?"
"Can Tho."
I hopped on, really wishing I had gotten a DNR tattoo on my chest in Thai, Chinese and Vietnamese, especially when I arrived at the station where I drank a coconut.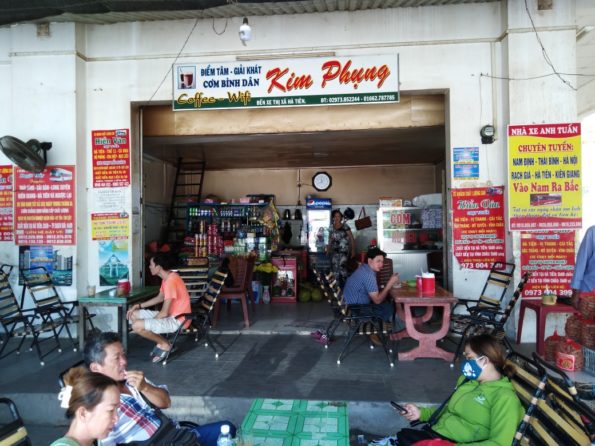 A mechanic was tinkering with something on the underbelly of our bus.
"Don't worry!" My Vietnamese Mad Max chortled.
Easy for him to say. I handed over my eight-spring roll payment for the bus ticket and his escort service.
For the next three and a half hours, I would be a human sardine along with two military guys in their parakeet green jackets, a woman who would not stop screaming on her phone, four guys in flip flops, and five hundred or so pounds of fresh fish.
Yes, fish.
Quite the blend of smells between the bare feet, Tiger Balm and fins.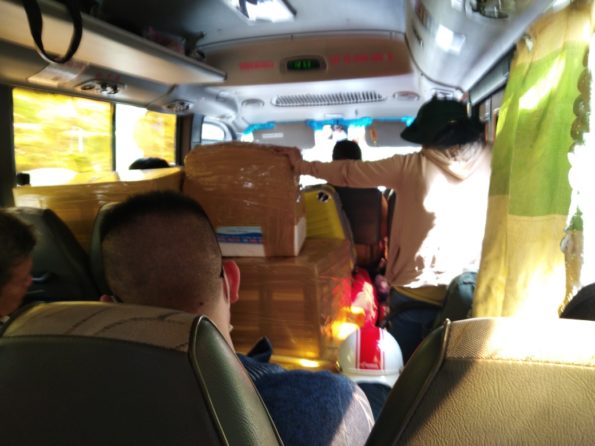 Of course, the fish got the front seats. The rest of us were squished in the back. When I snapped a picture, the bus ticketer swatted me twice, yet.
The driver made a few stops along the way or should I say, slow-downs. Every now and then, the bus driver would take his foot off the pedal so the ticketer could pass off a bag of clams or Styrofoam box of squid to a rice-hatted lady waving on the side of the street, who in return, would hand her a fistful of money.
Sorta like a Chicago drug deal.
Once in Can Tho, after the fish were unloaded from the bus, the rest of us passengers were able to disembark. I thought, where are these fish going?
After I checked into my homestay, I went hunting to find out. Before long, I saw a seafood restaurant with Styrofoam boxes stacked out front.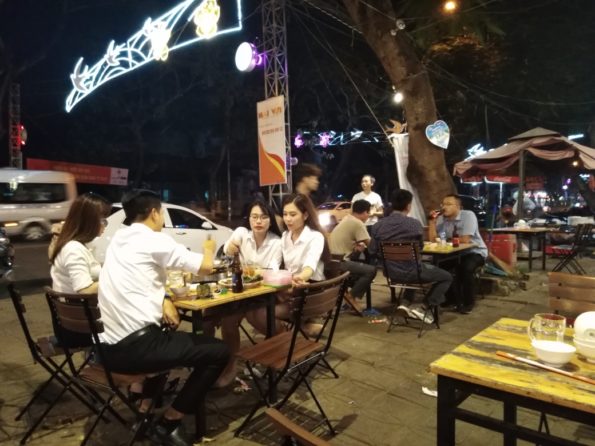 Granted, I probably did not eat the passenger who was traveling in first class, but most likely his second cousin or something. I picked him, got him grilled and savored every single bite. It was the best fish I ever ate in my life.
Ever.
As for Can Tho? Other than the sea food and my cutesy "this should be featured on Pinterst" homestay, Can Tho is the Cleveland of Vietnam. Totally blue collar with no hawkers trying to sell you trinkets or drag you on a day tour. So, I liked it. I meandered to the local fresh market where I purchased my coveted souvenir: sea salt.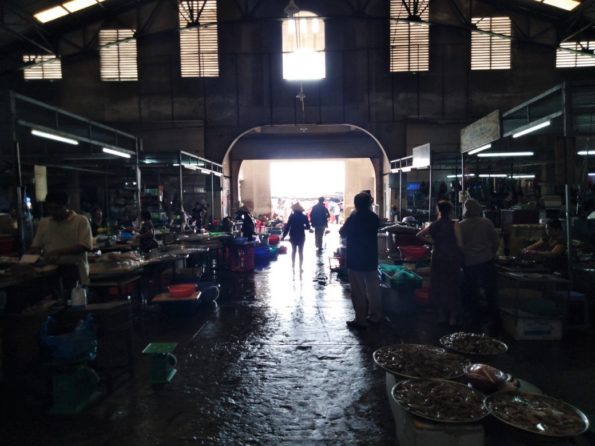 Fast forward my exciting new years night in Saigon.
Since nobody does debauchery better than Saigon, I bypassed the dangling appendages, kids eating fire, sticky sidewalks, drunken tourists, and dogs peeing inside Indian restaurants  to self snuggle in my hotel room and watch Men in Black in Vietnamese.  Not exactly what most solo travelers do in Ho Chi Minh City.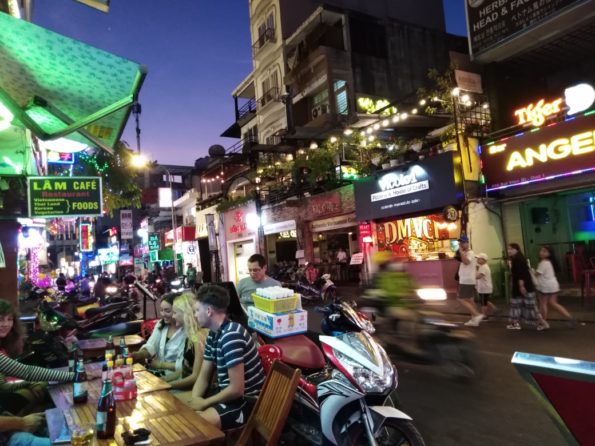 While champagne corks were still popping in London, I stumbled into a problem at the Saigon airport. The agent who stamped my passport upon entering Vietnam failed to notice that I had a multiple entrance VISA. Long story short, I couldn't get a boarding pass until I had a visit with the border control agent.
He looked like Erik Estrada in his prime. As he flipped through the pages of my passport, I was nervous as all hell because I had contraband in my duffel, that kilo of pure white sea salt. Not as scandalous as grade three heroin, but it got my knees shaking a bit. He got me my boarding pass,  didn't confiscate my salt and now I can enjoy a sprinkling of Vietnam when I eat my popcorn.
If you ever go to Can Tho?  Stay at the Winter Spring Homestay.
About thirteen bucks a night or the same as eating the bus passenger.
So, now fish can be my new monetary unit.
Pssst! If you are bussing around Vietnam? Take the FUTA bus. They can even pick you up like Enterprise and bring you to the bus station. Safe and easy for the single, budget minded female traveler.
Praborommathatchiyaratchaworawihan (I can't pronounce it either.)