My name is Ginger Sinsabaugh MacDonald  麦静洁  or Pure and Peaceful Hamburger Bun — when put into online translators. I know this because I am reinventing myself in China after a midlife divorce. It's on the fault line of somewhere old and somewhere new, sorta like anyone who's forty and up and finds herself starting over again.
For me, China was the place to do that starting over. It's in part of the world that craves a skill that middle aged women have regardless if our arms are flabby: we speak English!
Maybe you're going through a divorce and know the humiliation, pain and work it takes to move on. Maybe you want to try something new and be an expat. Or maybe, you just really like Kung Pao chicken.
So after you pay your lawyer, pack away your blues and get ready to start a new chapter overseas in a quaint village of three million. Trust me, the sequel for you is even better than the original story. You might not find romance but you can get a massage for under ten bucks.
So pack your passport, TEFL certificate and a copy of Without this Ring: A Woman's Guide to Successfully Living Through and Beyond Midlife Divorce, by Abby Rodman  and if you can find it,  a copy of DIVORCE: Your Passport to the Land of Begin Again by Nancy Swan Drew.
And one more thing: bring key to your storage unit. You'll want to know where it's at. Leave the other copy with a good friend.
And if you need a cheerleader, shoot me an email!
Ginger (AKA One Peaceful Burger).
More about the Burger
After two decades of urban youth ministry in Chicago,  I moved to China  to teach kids a few things more important than verb tenses when my marriage imploded. I returned to the Windy City with a darn good wok and a lot of interesting recipes. I cooked for three hundred hungry mouths each day  as part of Jesus People USA, an intentional living community in Chicago's Uptown. Which is why, I carve time out of my day each day to write, fusing hope into every morsel.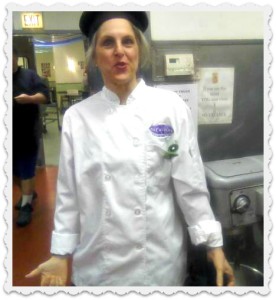 By sharing our stories, our loads seem lighter.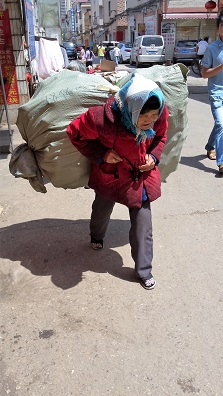 Hey–are you the same Ginger who wrote lessons for urban ministry?
Yes and a lot of coupon ads, too. If you are looking for TastyFaith curriculum for urban youth or teen moms,  just poke Mr. Crusty or shoot me an email. The best products are available electronically and I'll get them to you.